Saturday, November 29, 2003
Keith Langford has two basketball games to look forward to next week deep in the heart of Texas.
Monday, Langford and his Kansas University teammates will tangle with TCU in a 10 p.m. tipoff in Langford's hometown of Fort Worth.
Less than 24 hours later, Langford will be guest of honor at his alma mater -- North Crowley High, where his jersey No. 5 will be retired in ceremonies held in conjunction with the Panthers' game against Coppell High.
"I'm definitely looking forward to this trip, going home and seeing some old faces in the neighborhood," said Langford, KU's second-leading scorer at 18.5 points a game. "I'm probably looking forward to getting to see my brother play more than anything."
Langford's brother is major-college recruit Kevin Langford, a 6-8 North Crowley High senior who is considering UCLA, California-Berkeley and other schools.
You can bet Kevin will be applauding wildly for his big brother during jersey-retirement ceremonies.
"It will be an honor to get my jersey retired. Nothing like that has ever happened to me before," Langford said. "The school opened five or six years (ago,) and I was on one of the first teams there. To see where the team was before and where it is now, it's special to be part of it. It should be fun."
As will Monday's reunion at TCU's Meyer Coliseum. The Horned Frogs are coached by former KU assistant Neil Dougherty, instrumental in recruiting Langford to KU.
"Coach 'D' is probably the primary reason I came here, to tell you the truth," Langford said of Dougherty, who worked for Roy Williams from 1995 to 2002 at KU.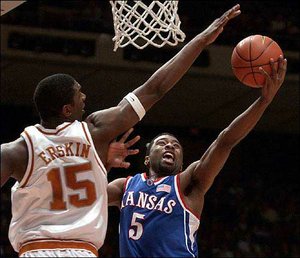 "The tradition and everything is fine, but the fact I trusted coach Dougherty is the main reason I came here. He's honest. He knows a lot about the game. I felt when he was recruiting me I could learn a lot from him."
Dougherty's Horned Frogs are 1-0 entering tonight's game against Tulsa after a dismal 9-19 debut campaign.
"I still talk to coach 'D' occasionally. I saw him last summer a couple of times," Langford said. "It won't be an emotional reunion or anything like that."
Texas brought out the best in Langford a year ago. He averaged 18.2 points a game in four games played in Texas last season after totaling six points in two games in Texas his rookie season. He's 5-1 overall in the Lone Star State.
"I was nervous a lot my freshman year. Going home made it worse," Langford said. "My mind-set is different now. ... I just want to go back to Texas and show what I'm capable of, playing well and playing on the winning team."