STILLWATER, OKLA. — Bill Whittemore likely will be cleared to play in Saturday's regular-season finale.
Whether Kansas University's injured senior quarterback actually will get on the field during the Senior Day football game against Iowa State remains to be seen.
Freshman Adam Barmann started his third straight game in place the ailing Whittemore Saturday in a 44-21 loss at Oklahoma State. Barmann suffered a right-ankle injury in the first quarter and split time with third-stringer Brian Luke in the second half.
Luke responded with his best game in two seasons, completing 22 of 38 passes for 193 yards and two touchdowns and one interception.
"I'm happy," Luke said, "but it wasn't enough to win the ballgame, and that's the bottom line."
Barmann, who did not appear to be seriously injured, finished 8-of-14 for 66 yards with one interception. He is 57-of-85 for 564 yards in three games.
Whittemore was the nation's second-rated passer before suffering what was believed to be a collarbone injury Oct. 25 at Kansas State and hasn't played since.
Mangino will have to decide who will be under center when the Jayhawks play what will be one of the program's most important game in eight seasons. When ISU (2-8, 0-6 Big 12 Conference) comes to Kansas (5-6, 2-5) the Jayhawks will be playing for a bowl berth and the rewards -- revenue, recruiting, exposure and three extra weeks of practice time -- that would come with it.
"We're getting Adam ready to play," Mangino said. "That's the way I'm going to proceed with it. Based on what I saw on the practice field Thursday, I'd have to say Bill's not going to play. I think he feels differently about it. Our medical staff's going to release him; I know that. Whether or not he can actually do it and play, I don't know."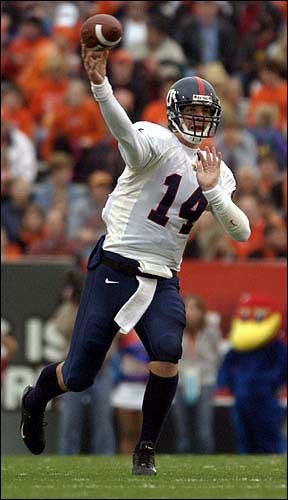 Mangino could be playing mind games with Iowa State. He could be trying to light a fire under his senior leader. Or maybe Whittemore really won't be able to play after a painful injury and missing most of the last four games.
"I think he's going to get the green light here," Mangino said. "The information I'm getting from the trainer is that medically, he's going to be cleared to play. I think he has to be able to feel comfortable executing plays and doing things our offense has to do."
Whittemore -- who was not available to reporters after the game -- passed for 1,921 yards and tied a KU single-season record with 15 TD passes in just eight games. He also rushed for 365 yards and seven touchdowns. KU was 5-3 in games he started.
Barmann showed the ability to stretch the field in a 294-yard, four-touchdown debut against Texas A&M;, but KU's offense has been more conservative the last two weeks.
"Barmann is the same as Bill," said sophomore receiver Mark Simmons. "Bill sometimes takes more shots, so it seems like we haven't thrown the ball downfield a lot."
Simmons, for example, caught 27 passes for 631 yards and six touchdowns in the seven games Whittemore started and finished and has 10 catches for 126 yards and one TD since.
"It doesn't matter who the quarterback is," Simmons said. "We're supposed to score every time."
KU's quarterback -- whoever he is -- will try to end an eight-year bowl drought against ISU.
"We have to win," Barmann said. "Everything we've worked for all year long comes down to this one game. It's do or die."
More like this story on KUsports.com