With more than 50,000 students, the University of Texas at Austin is the largest university in the nation. Moreover, UT's endowment of $17 million is the largest of any alumni association in the nation.
Little wonder, then, that the Longhorns thoroughly dominated athletic competition in the Big 12 Conference during the 2002-2003 school year.
Not only did Texas capture eight Big 12 regular-season championships -- five in women's sports, three in men's -- the Longhorns finished second in five other sports and wound up no lower than fourth in any sport.
Thus Texas was a runaway winner of the mythical conference all-sports championship. Using a basis of 12 points for a first place, 11 for a second place, 10 for third and so on, the Longhorns compiled 110 points in women's sports and 100 in men's sports for a combined score of 210.
Missouri, boosted by a strong showing from its women, was a distant second with 164 points, edging Texas A&M;, the league's second-largest university. The Aggies checked in with 162.3 points.
Nebraska, hurt by its sagging basketball programs, slipped to fourth place with 146 points. The Cornhuskers had the dubious distinction of finishing last in both men's and women's basketball.
Oklahoma was fifth at 127 points, followed by Oklahoma State (116.8), Colorado (110), Baylor (105.5), Kansas State (99), Kansas (95.8), Texas Tech (83) and Iowa State (79.5).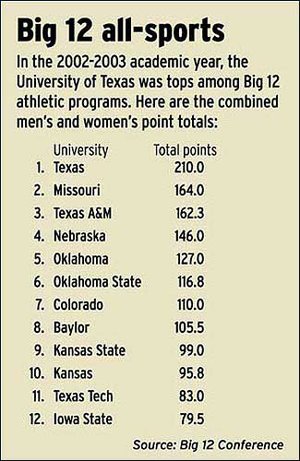 Like Missouri, Kansas was helped by a strong showing from its women, who finished seventh in that compilation despite finishing no higher than fourth in any sport. KU's men wound up 11th with only 36 points, and a third of those came from its basketball team for capturing the conference title. Otherwise, no KU men's team finished higher than eighth in league standings.
Kansas is one of four league schools that competes in only seven of the league's 10 varsity men's sports. Kansas State, Colorado and Iowa State are the others. None of the conference schools, incidentally, fields 10 men's teams. Texas, Nebraska, Oklahoma, Oklahoma State, Missouri and Texas A&M; all have nine.
In women's competition, the Big 12 sponsors 11 championships. Missouri, Nebraska and Iowa State are the only schools that participate in all 11. Texas, Texas A&M; Oklahoma and Kansas sponsor 10. Texas, Texas A&M; and Kansas don't have gymnastics while Oklahoma doesn't have a swim team.
Kansas also funds rowing, but the Big 12 does not include that sport on its championship chart. KU's highest finishes in women's sports were fourth places by the indoor track and swim teams.
Three schools -- Missouri, Kansas State and Iowa State -- failed to capture a championship in 2002-2003. Missouri, however, had three second places and fourth thirds. K-State had two seconds and three thirds. Iowa State's highest finish in any sport, male or female, was a fourth place in gymnastics.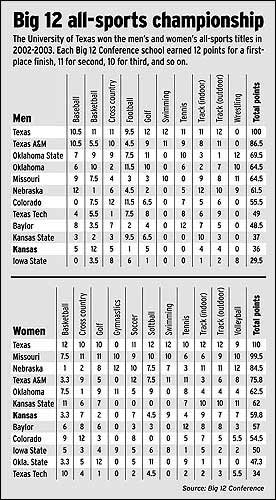 More like this story on KUsports.com