Everybody knows what Nick Collison can do on a basketball floor. Now they know what he can do in the classroom, too.
Collison was named Kansas University's male senior scholar-athlete of the year at the Jayhawk Scholar Recognition Banquet Monday night at the Kansas Union.
Gwen Haley, a swimmer from Carmel, Ind., collected the female scholar-athlete award.
The 6-foot-9 Collison, a first-team All-American and the Big 12 Conference Player of the Year as chosen by the league coaches, admitted the academic award surprised him.
"Kinda, yeah," he said. "There are a lot of people with better academic resumes than me, but I'm very happy to win it."
Collison is the first men's basketball player to win the award since Jacque Vaughn and Jerod Haase shared it in 1997.
A communications-studies major, Collison earned academic All-Big 12 honors three times and was a five-time Jayhawk Scholar, meaning he earned at least a 3.0 grade point average during five of his seven semesters.
Collison acknowledged that playing basketball was a tough grind with its long season and seemingly endless travel, but he stressed that other student-athletes work even harder.
"We get the recognition," Collison said, "but I know a lot of friends who are studying things like biochemistry and are studying all the time, and they have to travel, too."
Collison, teammate Kirk Hinrich and former teammates Jeff Boschee and Brett Ballard plan to walk down the hill during graduation ceremonies May 18. Collison and Hinrich earned degrees in four years, while Boschee and Ballard, who was in a five-year program, needed an extra year.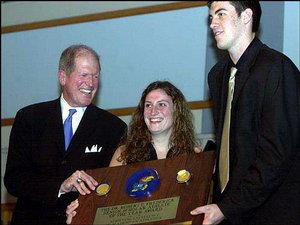 In the meantime, Collison and Hinrich have been lifting every day in the new Anderson Family Strength and Conditioning Center while preparing for the NBA draft June 26 in New York City. Both Hinrich and Collison are projected as first-round selections.
After graduation, Collison will go to Los Angeles, where he'll work out with other players who are under the auspices of SFX Sports Group, the agents who signed Collison a couple of weeks ago.
Collison also has been selected to participate in the Olympics qualifying tournament Aug. 20-31 in Puerto Rico.
"I think they needed some role players to work with all those stars, and I was lucky to get picked," Collison said.
He is one of three "role players" picked to join a core group of Ray Allen, Mike Bibby, Kobe Bryant, Tim Duncan, Allen Iverson, Jason Kidd, Karl Malone, Tracy McGrady and Jermaine O'Neal. Collison has not been guaranteed a spot in the 2004 Olympic Games.
Haley, a Phi Beta Kappa who will graduate with highest-distinction honors, has been accepted into the Ph.D. program in neuroscience at Wyoming University.
Haley said she chose Wyoming because her parents moved to Casper, Wyo.
"Right now, I'm going into pharmaceutical research," she said, "but maybe I'll go to med school, too."
The other finalists for the senior scholar-athlete awards were soccer's Pardis Brown, track's Anson Jackson, football's Jake Letourneau, tennis' Kim Lorenz, baseball's Casey Spanish and volleyball's Kylie Thomas.
More like this story on KUsports.com