Kansas University baseball coach Ritch Price had a couple of thousand reasons why his Jayhawks stepped it up Friday against No. 6 Texas.
"That crowd," Price said. "When you walk on the field and there are that many people in the stands, it pumps our players up. They wanted to play well for them."
An impressive performance by senior Kevin Wheeler on the mound and at the plate and a record crowd of 2,106 fans at Hoglund Ballpark helped the Jayhawks crush Texas, 10-1.
For Kansas, it was yet another startling success story against the nation's best. The Jayhawks are now 4-0 against top-10 teams this season, adding Friday's blowout to a three-game sweep over No. 6 Louisiana State in February.
The victory improves KU to 33-19 overall and 8-11 in Big 12 Conference play. Texas, sitting at first place in the conference, dropped to 35-14 and 16-6.
KU capitalized three batters into the first inning, grabbing a 2-0 lead on a long home run by junior Ryan Baty. Four innings and three Texas pitchers later, the Jayhawks were up 9-1, and Texas was looking to today's 2 p.m. showdown.
At the plate, Wheeler was 2-for-3 with two doubles and three RBIs. On the mound, Wheeler was the big reason Texas was never in the ballgame. He pitched a complete game, striking out three and throwing just one mistake -- a home run to Michael Hollimon in the third inning. But after the lonely solo shot, Texas posted zeros in the final six frames.
"The pitcher from their side took control of the game in the first five innings." Texas coach Augie Garrido said. "He had us off-balanced and out in front."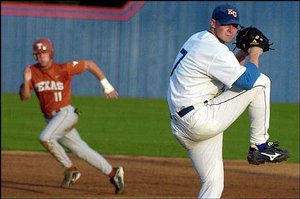 Wheeler doesn't light up the radar gun, but his assortment of junk and ability to hit the corners doomed the Longhorns.
"It was a crucial effort for us," Price said. "He was able to pitch down in the zone tonight and use his changeup and breaking ball. He located really good."
Wheeler's antagonist, Danny Muegge, was ousted in the fourth after surrendering seven runs on seven hits. Garrido hardly blamed his own pitcher; he simply pointed to the Kansas dugout for the reason his Longhorns' five-game winning streak was snapped.
"They hit the ball early in the count, and they hit it hard," Garrido said. "I would give credit to their hitters."
Some of it, anyway. Price reiterated more than once who else was a big part of the big victory -- the 2,106 fans that left Hoglund in good spirits.
"It was great to win in front of them and put on a good performance," Price said. "We're going to try to build on this, no doubt about that."
Kansas 10, Texas 1
Texas 001 000 000 -- 1 7 2
Kansas 400 500 01X -- 10 13 0
W--Kevin Wheeler (6-3). L--Danny Muegge (6-5).
HR--Kansas: Ryan Baty (10); Texas: Michael Hollimon (2).
KU highlights: Matt Baty 3-for-4, run, SB (12); Ryan Baty 1-for-2, HR, 2 RBI; Matt Tribble 2-for-3, 2 runs, RBI; Kevin Wheeler 2-for-4, 2 2B, 3 RBI; CG, 1 ER, 3 K.
More like this story on KUsports.com