Anaheim, Calif. — There will be one glaring mismatch on the floor tonight when Kansas University's Nick Collison opens defensively on Duke's Dahntay Jones.
Collison stands 6-foot-9 and weighs 255 pounds; Jones checks in at 6-6, 210.
It's as big a height/weight disparity as you'll see in any college hoops game.
Tipoff for tonight's game between KU and Duke is 8:57 p.m. at the Arrowhead Pond.
"I'll have to be ready to go. I've guarded some quick guys before, but never a 2-guard," Collison, KU's leading scorer at 18.5 points a game, said of Jones, Duke's leading scorer at 17.5 ppg.
"I'll have to be ready to slide my feet and make sure I'm in good position to use my length to bother his shots, because I'll probably start on him (Jones) and guard him at least half the game."
Collison is comfortable both in the paint, where he scores most of his points, and on the perimeter, so he figures to be comfy roaming outside tonight.
"I've been on quite a few guys 6-foot-6, but mostly smaller post players," Collison said. "Definitely it's a huge challenge."
On the other end, it will be a huge challenge for Duke to slow Collison. The Blue Devils, who have been going with a smaller lineup lately, can put Jones or 6-9 freshman Shelden Williams on Collison.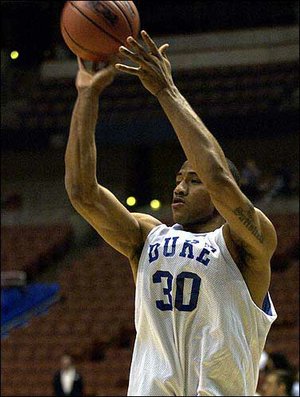 "We'll try to take advantage of our size," Collison said. "What I try to do is score inside, and we'll continue to try to do that."
KU sophomore guard Keith Langford grinned when asked if Collison could effectively shadow shooting guard Jones.
"He'll have to ... it's a simple fact," Langford said. "Nick will have help, but for a big man, Nick can really slide his feet well. Dahntay's strength is going to the hole. If he shoots the jumper, hopefully Nick's height will bother his shot."
Nothing is set in stone, but tonight's matchups figure to look like this: Kirk Hinrich on J.J. Redick; Aaron Miles on Chris Duhon; Jeff Graves on Williams; Collison on Jones; and Langford on Daniel Ewing.
Graves had a good game guarding Arizona State freshman Ike Diogu in KU's 108-76 victory over the Sun Devils Saturday in Oklahoma City.
"I heard he likes to bang, too," Graves said of Duke's Williams. "That's good, because that is more my game."







Storied programs: The media at Wednesday's mandatory press conferences quizzed the Jayhawks about a matchup against Duke, another storied program and perhaps the dominant team in basketball the last 10 years or so.
Langford was asked if he's sick of so much talk about Duke.
"Yeah, man. They go to college just like we do," he said. "The whole Duke thing ... I will not look up to anybody unless they are playing the game for millions (in NBA). Duke has a great team, and we think we have a great team. It's just two college teams playing.
"If we were playing Africa or Australia to get to the Final Four, it'd be the same as playing Duke. It's a team we respect fully, but have to beat if we want to get to New Orleans."

Short practice: As they did in Oklahoma City last week, the Jayhawks held a brief mandatory workout at the Arrowhead Pond.
KU's players stretched and did some layup drills, then did a short dunk drill for the small gathering of fans. After the 30-minute workout, the Jayhawks headed to a local high school for a more intense practice.

Homecoming of sorts: KU freshman forward Moulaye Niang, who played high school ball two years in El Cajon, Calif., said his high school coach and his uncle, who lives in Los Angeles, would attend today's game.
"I've already seen some friends who came by yesterday," said Niang.

Giddens dunks: KU signee J.R. Giddens had some spectacular dunks during the McDonald's dunk contest Tuesday.
"He's very impressive," said fellow KU signee David Padgett, who couldn't play in Wednesday's game as he rehabilitates his injured right knee. "I knew he could jump, but I didn't know he could do stuff like that."
Giddens excelled during the first round, but sat out the finals after aggravating a stress fracture in his left foot.
"It didn't go as planned," Giddens said. "I planned on winning the contest, but I wanted to rest it and didn't want to take any chances."
More like this story on KUsports.com