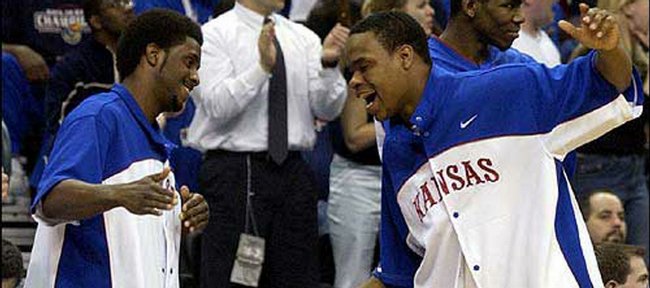 OKLAHOMA CITY — Racing downcourt after hitting a three-pointer, Kirk Hinrich flashed a grin and a three-finger salute in the direction of CBS-TV announcer Kevin Harlan with six minutes left in Saturday's Kansas University-Arizona State NCAA Tournament game at Ford Center.
It was that kind of night.
Hinrich and the Jayhawks frolicked all the way in an astonishingly easy 108-76 second-round West Regional victory over the outmanned Sun Devils.
"That was a lot of fun," Hinrich said after scoring 24 points, just two nights after collecting just eight points in KU's shaky 64-61 victory over Utah State. "I feel a lot better after this game than the last one.
"We came out and were able to get stops, get it off the glass, get our running game going and making some easy ones. We played really well tonight. It's fun when everything clicks like that."
Hinrich said an aggressive attitude was responsible for his and his teammates' success.
"We were in it right from the start," said Hinrich, who hit nine of 14 shots and three of four three-pointers on a night the Jayhawks hit 67.8 percent of their shots, the highest shooting percentage by a KU team in an NCAA Tournament game. "We were into it more than we have been all year. It showed because we were getting great shots, playing patient and unselfishly. We were getting a lot of transition baskets."
A lot is an understatement.
KU hit 22 of 29 shots the second half for 75.9 percent, the fifth best percentage in a half in the Roy Williams era.
In one nine-minute stretch, the Jayhawks hit 14 -- yes, 14 -- straight shots.
"I thought we played perfect the second half," KU junior Jeff Graves said after scoring five points and grabbing four boards in a victory that propelled KU into Thursday's Sweet 16 battle against Duke in Anaheim, Calif.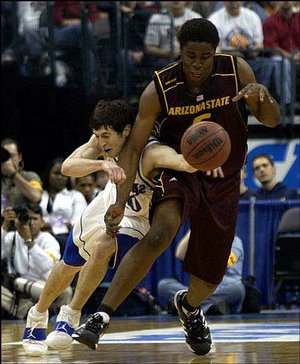 "The thing is ... we can be even more perfect," Graves added.
That's a scary proposition for the remaining tourney teams, considering No. 2-seeded KU (27-7) rolled to 108 points Thursday, the second most points scored by a Jayhawk team in tourney history, just a bucket off the 110-point outing against Prairie View A&M; in 1998.
"We were sensational," Williams said. "That's the kind of performance I'd hoped we'd have. We were more intense. We were more focused tonight."
Williams didn't list everybody who turned in a "sensational" effort. It might have taken him longer than the allotted 15 minutes on the postgame press podium.
Five players scored in double figures. Hinrich tallied 24, while senior Nick Collison added 22 off 9-of-12 shooting. Keith Langford hit nine of 13 shots en route to 19 points, while Aaron Miles exploded for 18 points off 5-of-17 shooting. Michael Lee came off the bench for 10 points, while Bryant Nash had two buckets in the stretch in which KU bagged 14 in a row and also had three blocks, including one of his former AAU teammate, Ike Diogu.
The Jayhawks held the freshman center to 13 points off 5-of-12 shooting and harassed ASU into 40.6 percent overall shooting.
Graves, who had four fouls, opened on Diogu the first half as KU blazed to leads of 16-4 and 27-8. Diogu had 10 hard-earned points at halftime, the Jayhawks leading, 47-31.
"We surrounded him," Collison said of the defensive plan. "He'd be a hard guy to play against 1-on-1, but we were aggressive defensively the whole game."
And offensively, just two nights after the clunker against Utah State. The Jayhawks, who used a 20-4 run to turn a 55-41 lead into a 75-45 margin, shredded ASU's man-to-man defense.
"I thought they might play zone because they played some against Memphis," Collison said. "I think they felt man-to-man is what they had to do."
The Jayhawks faced a zone with mixed results in the USU game.
"That was fun. If I had to pick one word to describe it, it would be fun," Langford said. "I don't think they (Sun Devils) expected it to be that tough. They saw the Utah State game and thought it'd be easy. It wasn't as easy for us as it looked. We worked our butts off out there. That's why we won by 30. To win by 30 and get to the Sweet 16, you can't ask for more."
More like this story on KUsports.com