Dallas — Basketball is a simple game to Texas' Stacy Stephens.
"I just post up and rebound," Stephens said. "I don't get in too deep of thought about it."
The 6-foot-1 Stephens had 27 points and 12 rebounds in just 28 minutes, leading the fifth-ranked Longhorns to an 87-56 victory Wednesday over Kansas University in the quarterfinals of the Big 12 Conference tournament at Reunion Arena.
Stephens and 6-2 Heather Schreiber dominated under the basket against KU's Crystal Kemp and Tamara Ransburg. Schreiber added 14 points and 10 rebounds for the Longhorns.
Kemp and Ransburg, who combined for 33 points and 19 rebounds in Tuesday's first-round victory over Iowa State, were overmatched against the Texas twosome.
Ransburg was held to 12 points and five rebounds; Kemp had eight points and seven rebounds. They were both in foul trouble much of the game and couldn't match the Longhorns on the boards. Kansas was outrebounded, 41-29.
"(Stephens) is a big, physical presence. She's an outstanding post player," Ransburg said. "I would give her the ball, too."
Texas players know to whom to go.
"Anytime I'm on the floor, I'm always looking for Stacy," said point guard Jamie Carey, who had six assists and 11 points. "I'd be silly not to look for her."
Texas (23-5), the Big 12 regular-season champion and winners of 11 straight, wasted little time against the Jayhawks, whom they flattened, 89-47, Feb. 8.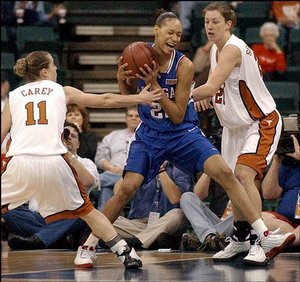 continued from page 1c
The top-seeded Longhorns went on a 17-0 run midway through the first half to go up 29-15. Texas led 39-24 at halftime.
In the second half, Texas immediately started giving the ball to Stephens in the post. The center scored six of Texas' points during an early 12-0 run that gave the Longhorns a 53-28 lead.
Later in the half, Stephens scored on three straight possessions to put Texas up by 28 points. With 10:20 left, coach Jody Conradt removed Stephens and the center didn't return.
"I've always liked to play physical," Stephens said. "If someone wants to play physical with me, I'll play physical."
The Longhorns shot 61 percent from the floor in the second half and equaled a tournament record for fewest personal fouls committed in a game with eight.
"I thought we ran out of gas," KU coach Marian Washington said. "We had to play very hard yesterday. It took every single player on the floor to play hard and to come back and face the No. 1 team."
Kansas finished its season 11-18 -- an improvement over last year's 5-25 record.
"We're going to give them a game next year," KU sophomore Blair Waltz said. "Now we have experience and we know what we are going to face in the years to come."
Mengüç injured: KU junior point guard Leila Mengüç went down because of a knee injury in the first half and did not return to the game. Mengüç went to the locker room, then rejoined the Jayhawks' bench during the second half with her knee heavily wrapped with ice bags.
More like this story on KUsports.com