Ross Randall wasn't able to golf at the Be Like Bob Memorial tournament over the weekend at Alvamar.
But Kansas University's 25th-year men's golf coach -- whose health has been subpar the past five months -- was able to drive a cart around the course and serve as a spectator as he continued his remarkable comeback from life-threatening ailments.
"I can't play just yet," said Randall, wearing a boot on his right foot as he completes recovery from a serious infection -- one of many complications from his 40-year bout with diabetes.
"I wanted to say hi to some people -- quite a few former KU golfers and friends. Some people have been wondering if I'm OK. I wanted to show I'm OK."
Randall, who last played a round Feb. 10 with KU's team in Hawaii, is feeling so well, he plans to end his long layoff within the next few weeks. His goal is to round his game into shape and play in a Midwest Section senior club pro championship qualifying tournament in August in Olathe.
"I will play this month. I am certain of it. I've always been real competitive and have missed the chance the past couple of months to try to win a dollar or two," said Randall, who played eight years on the PGA Tour after starring at San Jose State. "My goal is to get out there again soon, real soon."
It's impossible to describe what has been ailing Randall in a paragraph or two. In fact, it took Randall -- who has had hand and knee, heart and circulation problems in his feet and more -- a good 20 minutes to answer one question about his health history.
"Have you got a lot of columns? I can tell some stories," Randall said of his medical woes, unreported in the past, partly because Randall has gritted his teeth and missed just two KU tournaments in his entire tenure with the Jayhawks.
"This is only the second time I've discussed it in 40 years. I'm older, and it's my problem, and I've go to deal with it," the 58-year-old Randall said of diabetes. "I figure if I can do something to help somebody else, let's do it."
Randall was first diagnosed with diabetes as an 18-year-old freshman golfer at San Jose State when he headed to the hospital fatigued after a midweek quarterfinal victory in the 1968 San Francisco City match play championship.
"The doctor who diagnosed me called the course and said, 'Randall is in the hospital. Is there any way you can postpone his next match until Friday?''' Randall said. "I showed up at 9 a.m. Friday, and there were 1,000 people there to watch my semifinal match. The guy beat me on the 18th hole, 1-up. That was that. I had to deal with being a diabetic from then on."
He learned how to administer his own insulin shots as a second-semester college freshman.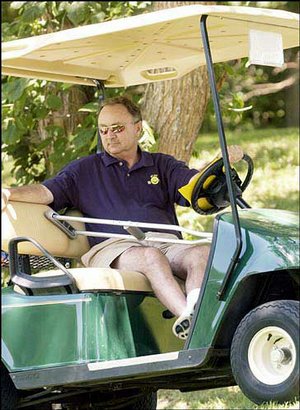 "I was so focused on golf, I didn't think about it or feel sorry for myself," said Randall, who placed second at the NCAA championships his senior year. "I didn't let it bother me, but I also didn't realize the implications of it, what was down the road."
Randall arrived in Lawrence to work as an Alvamar golf pro and KU coach in 1980.
"I've loved every minute of it ever since," Randall said.
Pain in the neck
Randall underwent neck surgery in 1993 for a disk problem that caused nerve problems and loss of sensation in his left arm.
"It's the first operation I ever had," he said.
Then in 1997, Randall suffered discomfort in his right hand.
"One thing diabetics have trouble with is tendons in their fingers. Your fingers curl up. You clench your fingers into your fist and they won't come back out," said the right-handed Randall, who had tendon surgery and was unable to golf for six months. "I about killed myself shaving and brushing my teeth with my left hand."
Randall's primary doctor, Larry Ingham, advised him to take a stress test in 2000. Good thing, because Randall had two blocked arteries in his heart.
An angioplasty provided temporary relief, but after seven months Randall needed bypass surgery.
"It was supposed to be a double (bypass), but they went in there and saw some additional blockage and said, 'Let's do four,' so it was a quad," Randall said. "The recovery was not easy because I was so torn up in the chest, but I got through that pretty well."
Blister turns into headache
In 2001, Randall noticed a blister on his left foot. On the surface, it didn't sound too bad, but it turned out to be serious.
"One of the things you must worry about if you are a long-term diabetic," he said, "is you don't have enough blood circulation for bunions and calluses to heal."
Randall received treatment at a wound-care center in Kansas City once a week for almost two years.
"It was touch-and-go as to what I'd keep as far as my foot. It finally healed through the work of a bunch of good doctors and exotic treatments," Randall said.
To help improve blood flow to the left foot, Randall endured an artery transplant in his left knee, an operation that required two weeks of hospitalization and forced him to petition to ride a cart while coaching his Jayhawks at the 2001 NCAA championships.
This past April, Randall -- who about the same time had surgery to remove 20 pieces of damaged cartilage in his left knee -- tore a callus in his right foot while trying out a new pair of shoes.
"It got infected, and now, bingo, I'm wondering, 'What am I going to lose in my right foot?''' Randall said. "It got bad."
Tissue was removed from the foot, and all his toes were saved.
Cancerous growth removed
However, last May, when doctors put a catheter in his chest in an attempt to allow better passage of fluids in the body, Randall's right lung was nicked and punctured.
No big deal: The lung was reinflated.
But when a chest X-ray was taken to check on the progress of reinflation of the lung, a radiologist discovered a growth on the X-ray.
Tests determined the growth was malignant.
"They cut me open through the ribs to remove the tumor," Randall said. "Fortunately, it was really early. It was the size of a small grape and had not spread anywhere. The doctor -- world-renowned surgeon Jeff Piehler of KU Med Center -- removed the growth and said, 'No radiation, no chemo, no anything.' He said he felt he got every bit of it.
"Like one doctor told me: 'If you hadn't gotten the lung punctured and hadn't gotten a chest X-ray, nobody would have looked for that for four or five years and you'd have been a goner.'"
Now the tumor is gone.
Randall's left foot feels fine.
The right foot is almost completely healed, and Randall is thinking about golf, not hospital beds.
"I'm working out three times a week, getting ready to play some golf," Randall said. "This week I tried to hit a chip shot on the range. It kind of hurt my left rib cage, so I stopped. I'm really excited about getting back into golf right now."
Randall said he was grateful for support from his wife, Linda, plus a plethora of doctors including Paul O'Boynick, Lynn Ketchum, Jeff Muehlbach, Jeff Randall, Mark Praeger, Piehler and Ingham.
"Linda has been so loving and helpful through all this. I would not be here if not for her," Randall said. "I would not be here if not for all the doctors who literally have saved my life many, many times.
"I'm holding off this disease as long as I can. Forty years is a really long time. There are a lot of things I want to do. I want to get back in shape so I can walk again with my wife in the mornings -- ride bikes and walk the dogs.
Diabetes can be controlled
Randall wants people to realize diabetes is serious, but "there have been so many breakthroughs throughout the years, including the pump that many golfers use."
A pump placed on one's belt automatically delivers insulin.
"There are so many advances. Forty years ago, the needle I used (to administer insulin) felt the size of a nail. It was awful compared to now. Now it's all disposable (needles)," Randall said. "When I was first diagnosed, you didn't talk about diabetes. I never told anybody. Media guides never listed it. I've been on TV a number of times and never said anything.
"It's so prevalent now. Type 2, late-age onset especially ... people overweight are getting it left and right. A youngster at my golf camp was diagnosed last year and is doing great. I'm hopeful with things like the pump, the future is bright for people, for golfers with this disease.
"For me I think the worst is over now."
His friends hope so.
"Ross has been dealt a lot of obstacles in his coaching career in the last couple of years. He's done a fabulous job of overcoming those obstacles so he could continue to work with the young men on his team and keep them together," said Janelle Martin, KU associate athletic director and friend of Randall.
"He's never gotten down or depressed. In the past couple of years, if something's happened, he has seen it as just another obstacle he's needed to overcome to do what he loves to do -- coach golfers. He's been able to persevere, drag himself out there. He is pretty tough and a great person, a great example not only to his golfers, but to all his friends."