Sometimes the early bird gets the worm. But sometimes the early bird is just plain too early.
Kansas University athletic director Lew Perkins, for instance.
Monday was Perkins' first day on the job, and it turned out to be a longer day than the former Connecticut AD expected. That'll happen when you forget to switch your alarm clock from Eastern to Central time.
"It's called being stupid," Perkins said during an informal meeting with the media Monday evening.
Perkins arrived late Sunday afternoon at Kansas City International Airport -- his connecting flight was 21/2 hours late because of thunderstorms in the Chicago area -- and was picked up by Jay Hinrichs, director of the Williams Educational Fund.
After having a late dinner with men's basketball coach Bill Self, Perkins was driven to a two-bedroom apartment, where he'll stay until his wife, Gwen, arrives in early August. She is under contract with the East Hartford School District until July 31.
Perkins unpacked, watched a little television and set his alarm for 5:30 a.m. because Hinrichs was going to pick him up at 6:15 a.m.
"I went outside just like waiting for a bus to go to school," Perkins said, smiling. "Then about 6:25 I called my wife, and she said, 'What are you doing? It's 5:30 a.m. there.' So I went back inside. That's a great way to start your first day."
Off to Milton's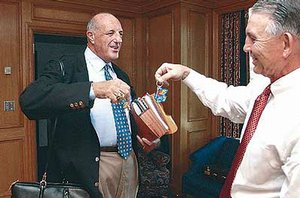 Eventually, Hinrichs arrived, and they drove downtown for breakfast at Milton's, where Perkins had a couple of poached eggs and met "three or four boosters."
Then it was off to Parrott Complex where he met for three hours with Drue Jennings, who has been keeping Perkins' chair warm since Al Bohl was fired in early April.
Jennings, a retired CEO, has been anxious to return to his former status since Perkins was hired June 10.
"When I got there, Drue was dangling the keys to the office over the bannister," Perkins said. "He is one of the great people in the world. We talked about all kinds of things -- family, KU and the future."
Later, Perkins took delivery of a car, one of the traditional perquisites of the KU athletic director, and met about 90 minutes with Chancellor Robert Hemenway.
Waltz, Simien greetings
Perkins had time, too, for one of his favorite pastimes -- meeting with student-athletes. Basketball players Blair Waltz and Wayne Simien introduced themselves, as did a couple of track athletes.
"That was great," Perkins said. "That was the best part of the day."
Still later, Perkins met with John Hadl, the former KU football All-American and NFL standout who is the Jayhawks' associate athletic director for development.
"I'd never met him before, and I was in awe," Perkins said. "We talked about fund-raising and more fund-raising."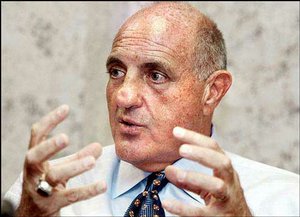 Generating revenue always has been the No. 1 priority of an athletic director and no one knows that more than Perkins, whose crowning achievement during his 13 years at UConn may have been lobbying the state legislature for $90 million to build a football stadium for the Huskies.
At Kansas, Perkins has run smack-dab into the Allen Fieldhouse seating controversy. A couple of hundred ticket holders have been affected by a decision to ask them to donate to the Williams Fund in order to retain their seats.
During the next several weeks, Perkins will be traveling the state meeting with KU alumni and friends and no doubt some of those ticket holders.
"I know everyone wants to talk about the ticket policy," he said. "But it's something we need to do. I don't know about around here, but everybody on the East Coast is doing it. Sometimes in our business you have to make decisions you're not happy with."
'Crazy' schedule
¢ On KU's facilities: "They're better than I thought they would be, but we have to improve them."¢ On Allen Fieldhouse: "It's great, but it needs some touching up. I don't want to lose its mystique. That would be a huge mistake. But after a 10-minute walk-through, the concession stands need paint, and I understand they're going to repaint the floor."¢ On interim AD Drue Jennings: "I like his future better than mine. He gets to play a lot more golf."¢ On former KU basketball standout Ralph Miller, who recruited Perkins when he was head coach at Iowa: "I learned great values from him. I was very, very blessed. To the day he died he wasn't Ralph to me. He was Coach."¢ On his golfing skills (he says he has a 17-18 handicap): "They gave me a Kansas bag, unfortunately. They put my name on it, so they'll know I'm a bad golfer. I'm not a competitive golfer. That's the only thing I don't have to be competitive about."
Perkins already has a jammed -- he called it "crazy" -- travel itinerary that will begin when he meets the board of trustees of the KU Endowment Assn. at their meeting Wednesday in Pittsburg. In the next two weeks, he'll also be in Emporia, Wichita (twice), Winfield, Topeka, Dodge City and the Kansas City metro area (twice).
"We ARE the state university, and we need to get out and be everywhere," Perkins said. "We're going to go to the people. We're not going to wait for them to come to us. I need to let them know who I am and what I stand for."
Perkins stands for success. At 58, he is a man at the top of his game. To lure him to KU, Hemenway dangled a $400,000 salary plus an annuity and the standard perks of automobiles, country club memberships, life insurance, etc.
"Everybody has to understand this is a business, a serious business with a $27 million budget," Perkins said. "We've got to start winning. That's what it's all about."
When he was hired in June, Perkins mentioned he felt KU had lost the swagger he remembered so vividly when he was AD at Wichita State from 1983-87. Perkins said it again Monday, and he'll no doubt repeat it as he travels around the state.
"When I was at Wichita State, we hated KU ... hated KU because they were so good," he said. "At Connecticut they hated us, and I took that as a compliment."
During the last four or five years, more or less coinciding with KU becoming a member of the Big 12 Conference, the Jayhawks have basically been trump poor with one ace (men's basketball) and a handful of low clubs and diamonds.
Challenge obvious
Perkins' challenge is to turn those low clubs and diamonds into face cards.
"Is it going to be hard? It's going to be a bitch, a real bitch," he said. "Anything is possible, though. Can we do it here? I really believe it. History, tradition ... it's all here. But it's not going to be a piece of cake."
TODAYGet-acquainted meetings with coaches and administrators.WEDNESDAYAttend the meeting of the board of trustees of the KU Endowment Association in Pittsburg.THURSDAYSpeak at the Sunflower Chapter of the College Football Hall of Fame dinner in Manhattan.SATURDAY-SUNDAYParticipate in the Be Like Bob Billings Golf Tournament at Alvamar Country Club.MONDAYKU Alumni Association meeting in Emporia.TUESDAY, JULY 15Golf and KUAA meeting in Wichita. KUAA dinner in Winfield.WEDNESDAY, JULY 16KUAA meeting in Topeka.THURSDAY, JULY 17Morning meeting with Gov. Kathleen Sebelius in Topeka.FRIDAY, JULY 18KUAA function with football coach Mark Mangino in Kansas City and KUAA function with men's basketball coach Bill Self in Dodge City.SUNDAY, JULY 20KUAA dinner in Kansas City.TUESDAY, JULY 22KUAA function at Wichita Hyatt Regency.Note: Perkins also plans to attend a Kansas City Royals game, a Lawrence Chamber of Commerce event and the Dole Institute Dedication Dinner, in addition to meeting with city and campus public safety officials and the KUAC board.WEDNESDAY, JULY 23Fly to Connecticut to close on his house located on a golf course in Cromwell, a Hartford suburb.