Longtime Kansas University benefactor Dana Anderson lives in Bel Air, Calif.
His house is within walking distance of UCLA's tradition-rich basketball palace, Pauley Pavilion.
Anderson knows UCLA perhaps better than anybody who bleeds KU crimson and blue, and he acknowledges there is a threat Bruin administrators will try to hire Jayhawk coach Roy Williams if seventh-year UCLA coach Steve Lavin is fired after the season.
"I do know people who are close to the UCLA program. No question those people covet coach Williams and have for years," Anderson said Thursday. "They approached him about the job before they hired Steve Lavin. I believe at the time they called him on Thanksgiving Day.
"I was talking to someone I would rather not name who told me recently, 'You know, Dana, he's still our No. 1 choice.' Believe me, big-time guys have told me at the (Bel Air Country Club), 'If we had a Roy Williams out here ... "'
The UCLA-Williams talk stems from recent reports that KU athletic director Al Bohl does not have a good working relationship with Williams and football coach Mark Mangino.
Bohl said this week he felt his relationship with both coaches was solid, but sources have indicated Bohl has had conflicts with Williams and Mangino.
Anderson -- the friend of Williams who donated $4 million for KU's new strength and conditioning center and is a key figure in the $500 million KU First campaign -- has heard rumors of a rift between Williams and Bohl.
"If there is truth in the negative relationship there, that would scare me because what a tragedy it would be for our university to lose who is clearly the best coach in America and the best available coach in America to coach at KU. (Duke's) Mike Krzyzewski is not going to come here," Anderson said.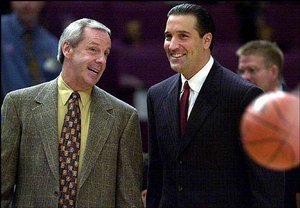 "Roy Williams has done such an incredible job. He is an icon. He and his wife, Wanda ... they both give their all to KU. The relationship this man has with his players, the recognition he brings this university -- it would be tragic to lose him."
Anderson said Williams' leaving Kansas would "have a huge impact on KU First. It would have a monumental impact on the university.
"I think if there is a problem (between Bohl and Williams) it needs to be resolved quickly. I have no quarrels or fights with Al Bohl, but if there is a dichotomy there, if one person can't live with the other, there can't be much choice in my mind."
Anderson said if KU had to choose between the two, Williams would win.
"I am not being negative about Al Bohl. I want coach Williams here," Anderson said. "He has gone through the agony with us about North Carolina a couple years ago (when Williams declined the Tar Heels' coaching offer). It was a tough decision for Roy. To go through something else again would be terrible. ... UCLA has a lot of wherewithal. Money would never be a problem for them. We have an annuity set up for Roy. He has to stay for five (years to receive monetary incentive for being KU coach). That would all be solvable for UCLA. That (matching the annuity) would not be a problem for them."
Anderson is vice chairman of the board of Macerich, a company that owns and operates shopping malls across America. Anderson said he has not discussed Bohl specifically with Williams, who on Thursday was unavailable for comment.
"I don't want to be portrayed as picking sides," Anderson said. "I just think this needs to be resolved to everybody's benefit and quickly.
"From an economic point of view, we need to get the football program going. Until we fill the stadium and get TV money we will have economic problems in the athletic department. God help us if basketball were in the middle of the pack instead of at the top. We would have severe problems with the athletic program. I applaud efforts to improve football."

Bohl successor?: Talk radio actually Thursday was discussing possible successors for Bohl. One show said Intrust president and former KU basketball standout Mike Maddox would be the perfect choice.
"I would rather not comment on anything like that," Maddox said.
After all, Bohl remains KU's AD.
Maddox did say he'd received "11, 12 calls from the media today."

Reunion weekend: Maddox will attend KU's 105th year of basketball celebration banquet Saturday at the Holidome and be introduced at halftime of Sunday's KU-Iowa State game with former KU players, coaches and managers.
"I'm excited about it. We were supposed to have a party for the '88 championship team Friday night. Kevin Pritchard and Danny Manning arranged it, but the way it's worked out, only Kevin and I would be there. Chris Piper will be in North Carolina doing TV. Jeff Gueldner is out of town and unavailable and Danny got a job with the Pistons. What we will do instead is something this summer with the '88 team."
More like this story on KUsports.com