Nearly every man who has coached football wants to become a head coach, yet the supply always outstrips the demand.
Still, there are rare instances when an assistant coach doesn't really want to be a head coach.
Case in point: John Mumford.
In his fourth year as defensive line coach at the U.S. Military Academy, Mumford was named interim head coach in mid-October when head coach Todd Berry, the man who had hired him, was fired.
"It was bittersweet," Mumford said.
Now Mumford, a 1975 Lawrence High graduate and former LHS football player, always will be an asterisk on the losingest season in NCAA football history. The Black Knights finished with an 0-13 record.
Interim head coaches become permanent head coaches about as often as the Queen Elizabeth II plies the Hudson River, and Mumford never was under any illusion he would be considered for the head job in 2004.
Army AD Rick Greenspan wanted a coach with NCAA Division I-A experience, and Mumford didn't fall into that category because his only head-coaching job had been at Southeast Missouri State, a I-AA school.
When Greenspan announced Tuesday that former NFL coach Bobby Ross had come out of retirement to take over the struggling program, the Army AD could have ignored Mumford, but instead paid him a compliment.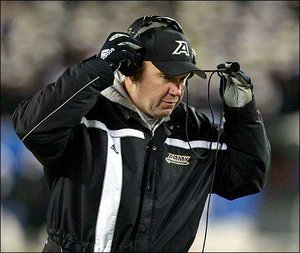 "John is a man who was given a very difficult assignment and rose to the occasion," Greenspan said. "Despite the uncertainty of his professional future, he represented the Academy with great distinction."
In fact, Mumford represented Army with such distinction under trying circumstances he has become the first member of the new Army staff.
"He did a wonderful job in the time that he was named the interim coach," Ross said in announcing Mumford's appointment Thursday. "Something like that is always a very difficult thing. He handled it with great dignity and character."
When I reached Mumford later Thursday, he was in Florida.
"I'm still recruiting for Army," he said, "and that's a good thing."
Recruiting -- the lifeblood of all college programs -- should be easier now that Army had a head coach with name recognition. Ross is the only coach, for instance, who has taken the San Diego Chargers to the Super Bowl.
"I think it's a home run," Mumford said of the Ross hire. "I don't think there are many people more respected in football or have more knowledge than coach Ross. It's a tremendous fit."
No one expects Ross to turn Army's program around right away, and yet the Cadets may be only a few offensive skill players away from becoming competitive again.
"We have a very, very good group of juniors," Mumford said. "They've played together since they were freshmen. They're a good bunch. But we have another year left in Conference USA and that hasn't left us a lot of flexibility."
Army will go back to being an independent, like Navy, in 2005 and will soften its schedule.
"I think we have a real selling point in coach Ross," Mumford said, "but my last words to the team were that it starts with them first."
Meanwhile, Mumford is bent on providing those returnees with some help. Ross was named head coach Tuesday. The next day Ross and Mumford and the other Army staffers went to the College Football Foundation dinner in New York. A day later, Mumford was flying to Florida.
Now the question is: Will Mumford and his wife, the former Leslie Green, also a Lawrence native, have time to come home for Christmas with their three teen-age daughters?
"I've been so busy I haven't hardly had time to talk to Les," Mumford said. "I told her to put our plans on hold."
More like this story on KUsports.com