Kansas University lost four seniors who started on defense in the 2002 season finale, a 55-20 loss to Oklahoma State.
While the loss of four players didn't necessitate a massive overhaul, having one of the worst defenses in the nation certainly did.
The Jayhawks, who allowed averages of 472.4 yards and 42.2 points per game in 2002, will have eight new starters on defense at 6 tonight when the Jayhawks open the season against Northwestern at Memorial Stadium.
"We worked our tails off to get in the position we're in right now," KU defensive coordinator Bill Young said.
"We're thankful we have an opportunity to go out and prove we're better players and coaches than we were last year."
The Jayhawks' defensive transformation starts up front where two junior-college transfers -- end Monroe Weekley and tackle Chuck Jones -- have claimed starting jobs on the line.
Athletic ends
"Monroe Weekley is very quick, and his relentless play is a welcome sign to our defensive front," head coach Mark Mangino said. "He is just a hard-nosed, aggressive player and we need that."
Weekley (6-foot-4, 256 pounds) sat out his freshman year at Pitt and was removed from the team for disciplinary reasons the following spring.
KU coaches said they've had no problems with the sophomore from Arizona Western this summer.
"He's been unbelievably good," Young said. "Since he's been here, we've had absolutely zero problems with him. He's really focused and really wants to play."
Weekley wasn't available for comment this week, but he was clearly eager for a second chance at major-college football at the beginning of preseason camp when he told reporters, "Thank God I'm here."
If Weekley lives up to his coach's expectations, KU fans will be thankful as well.
"He's a very athletic guy," Young said. "He has good speed, change of direction. He's probably as athletic as anybody we've got. He's very similar to David McMillan, who we feel is our best athlete on the defensive line. So we have two ends who have that ability to change direction, so if you have a bootleg or something like that and the flow is going one way and all of the sudden you have to change direction and get back, he has that closing speed and acceleration to recover once he realizes what is taking place."
McMillan (6-3, 240) started every game last year as a sophomore and made 55 tackles.
Co-captain Travis Watkins (6-4, 295) also started every game as a sophomore, but the junior tackle broke his foot during preseason drills.
Trading places
Watkins' injury opened the door for Jones, who played end and tackle at Pasadena City College and had been playing end in the preseason.
Young thought the move was a good one for both Jones (6-4, 295) and the defense.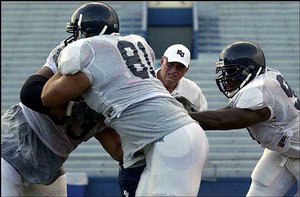 "I think he's better suited from a physical standpoint," Young said. "He's a little more athletic than a lot of the tackles. We had some other defensive ends that are a little smaller but might be more athletic than him out there on the edge. When we recruited him we felt like he was either or. That was one of the attractive things about him. In a pinch he could go back and play end."
Jones was an All-American last year when he had 76 tackles, two sacks, broke up seven passes and blocked a punt.
"He probably uses his hands as well as any of our defensive linemen as far as getting off blocks," Young said. "He doesn't get stuck on a block very long."
Coaches also like the attitude Jones brings to the field.
"He wants to be a leader and is doing his best to do that," Mangino said. "He's got a great personality, and I think that it's something our team needs. Our teams needs a little more flavor and needs people that are a little more outgoing and fiery. Chuck is very confident now. He believes that he can take on King Kong."
Not ready yet
A third junior-college transfer won't be in the starting lineup. Nose tackle Phil Tuihalamaka (6-3, 323) is behind senior Cory Kipp (6-4, 280) and sophomore Tim Allen (6-1, 260) on the depth chart.
Tuihalamaka didn't play high school football but was an all-conference selection at San Bernadino Community College.
"Phil is doing well," Mangino said. "He is not ready to compete for a starting position here just yet. He just has to keep working at it. It's a situation with Phil where there is a lot of learning involved because this is a new environment for him. When we get down the road we expect him to have an impact, but I think that his impact in the beginning of the season will be minimal."
Young sounded more optimistic.
"We're hoping that he's going to catch on," he said. "Phil's not out of the picture. He's right in there with the second unit.
"He's going to be a good player. Every day you see a little more improvement in him. It's tough to have a junior-college player come in the fall and make the two deep, and here we have two of them who are going to be starting for us. Generally you'd like to have a junior-college player come in and go through spring practice and get his feet on the ground, understand the schemes you're running and so forth. We didn't have that luxury."
Kipp's new role
KU didn't have that luxury last year when the Jayhawks brought in junior-college linemen Kipp, Reggie Curry, Sid Bachmann and Roy Teng.
None of those four made the leap from junior college to the Division I level as smoothly as Jones and Weekley apparently did this summer.
Kipp, Curry and Bachmann combined to make a total of 12 tackles in 2002. Teng took a red-shirt season and has since left the program.
Young said Curry (6-2, 245) will "be much, much better" this year and is listed second on the depth chart along with converted linebacker John McCoy (6-3, 250) behind Weekley.
Mangino called Bachmann (6-2, 270) a valuable "role player" who's No. 2 behind Jones at tackle.
Kipp (6-4, 280), meanwhile, is being counted on to start at nose tackle. He started the final game of the 2002 season there after struggling to make an impact at end.
He's ahead of sophomore Tim Allen (6-1, 260), who started seven games last season, and Tuihalamaka.
"One of the reasons that both of those guys are on the second team is the play of Cory Kipp," Young said. "Cory Kipp has really had an outstanding two-a-days and fall practice. He has really come on as a defensive lineman. I'm really proud of the way he's playing.
"He's an extremely strong individual. He has good speed for a defensive end. He has excellent speed for a defensive tackle. He's grasping the position. Every day you can see a little bit of improvement."
Put to the test
KU's revamped defensive front will be challenged early by a Northwestern offense that averaged 389 yards per game last season and returns sophomore quarterback Brett Basanez, who ranked second in the Big Ten in total offense, and senior running back Jason Wright, who ranked second in the league in all-purpose yardage.
With two new starters on the line, two more at linebacker and three in the secondary, the Jayhawks, the coaches believe, will be improved. The question is, how quickly can the unit play Big 12-caliber football?
"We'd be naive to think we're going to go out there and be a finished product in the first ball game," Young said. "It's going to be an ongoing process, particularly when you have five or so new starters who weren't in the system last year and several backups who haven't seen a lot of playing time. We'll make some mistakes, we just hope we have our ears back and are going 100 mph when we make them. That effort will make up for some of the mistakes. We feel great about the system we're running. We feel we have a defensive scheme that really features some people, and we're trying to put our playmakers in position to make plays."
More like this story on KUsports.com