Ed Warinner isn't Rumplestiltskin. He can't transform straw into gold.
But Warinner, Kansas University's first-year offensive line coach, believes he can make chicken salad out of what most people might perceive as chicken feathers.
"It can be done," Warinner said.
Yes, but Kansas will begin the season tonight with a tight end playing tackle, a tackle playing guard, a center who was in junior college last year, a red-shirt freshman at left guard and a senior right tackle who started just one game last year.
How long has it been since Warinner, now 42 and with 19 years of coaching experience, has had so many holes to fill? Uh, would you believe last year at the Air Force Academy?
"We started the first game with five guys who were all new," Warinner said, "and we went on to win eight games and the national rushing title."
It's true. Air Force led all 117 NCAA Division I-A schools by averaging more than 300 rushing yards per game in 2002.
Here are the five players who will start on the offensive line today against Northwestern:
Left tackle: Adrian Jones, a 6-foot-5, 280-pound fifth-year senior from Dallas, who spent his first four years at Kansas as a tight end.
Left guard -- Bob Whitaker, a 6-5, 325-pound red-shirt freshman from Mount Lebanon, Pa., who hasn't played a down of college football.
Center -- Joe Vaughn, a 6-1, 280-pound junior who transferred last spring from Northeastern Oklahoma A&M.
Right guard -- Tony Coker, a 6-5, 320-pound junior from Hoisington who started nine games at right tackle last season.
Right tackle -- Danny Lewis, a 6-4, 295-pound senior from Surprise, Ariz., who started just one game last year after transferring from Phoenix Community College.











Of the five, Jones and Coker have by far the most Division I-A experience, but they are playing at new positions, so on paper this is an offensive line built basically from scratch.
And yet, in spite of its patchwork look, coach Mark Mangino has showered the group with rose petals during the preseason, saying the offensive line is "light years" better than it was a year ago.
Jones certainly gives the Jayhawks more athleticism at tackle. He may be a little light at 280 pounds, but the converted tight end seems to fit the mold.
"Adrian Jones will be great at that position," Mangino said. "He will be a force to deal with. He has learned the system. He's a natural using his hands in pass protection, and he's powerful."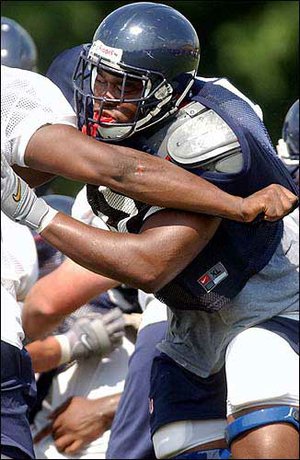 For his part, Jones figures the switch has been like changing from a sweater to a sweatshirt.
"I don't see it as a big transition," Jones said. "It just cuts out catching the ball. It's just blocking, and I've been doing that already."
Next to Jones will be Whitaker, a young player Mangino believes will develop into one of the best offensive linemen in school history.
"He takes this football stuff seriously," Mangino said. "He's got a great attitude and a tremendous work ethic. He's just a pup -- a red-shirt freshman and a baby-faced guy -- but he takes his work seriously."
Over the last few years, major college offensive lines have been in transition. A decade ago, tackles were the biggest linemen. Now it's the guards. Whitaker and Coker are both in the 320-pound range while tackles Jones and Lewis both weigh less than 300 pounds.
"You need pretty quick tackles in this league to contain speed on the edge," Warinner said. "And in today's defenses, a lot of them place defensive tackles over the guards, so people are going to bigger and bigger guards."
Centers don't necessarily have to be tall or weigh more than 300 pounds, so Kansas doesn't appear to be at a disadvantage with Vaughn standing just over 6 feet and tipping the scales about 20 pounds under the 300 plateau.
"You look for a guy who'll be real consistent in both the run and pass game," Warinner said. "And you want someone with leadership ability, someone who's reliable and can call the signals."
How soon this jerry-rigged offensive line can coalesce may go a long way toward determining how fast the Jayhawks come out of the blocks. Offsides and illegal procedure penalties often plague green offensive lines, but Warinner stressed he has a zero-tolerance policy in effect.
"We're not going to let inexperience be an excuse," Warinner said. "There will be no grace period. We expect them to play mistake-free."