After switching from quarterback to safety and back to quarterback last football season, Kansas University's Zach Dyer will be a full-time safety this fall.
Whether the senior co-captain will have a starting job, though, is uncertain.
"No starting spots have been determined ... so there's a battle, at all the positions," Dyer said, "but, speaking for the defensive backs, I'm just working in right there to be the best I can be to help the team.
"I'm not going to make predictions or anything like that, but I think there's definitely healthy competition back there with no clear-cut starters."
That competition includes Dyer, sophomore Nick Reid and senior Dan Coke at strong safety, and sophomore Rodney Fowler, freshman Jonathan Lamb and junior Tony Stubbs at free safety.
"We've moved Nick there, we recruited Rodney, Tony Stubbs has been unbelievable during fall camp and probably really stepped up more than anyone," safeties coach Clint Bowen said. "Zach's doing well. Everyone's getting reps. Whoever shows up and makes the most plays will be the guy at the end of it."
Switching positions near the end of his collegiate career didn't upset Dyer, but learning weekly game plans while also learning the position didn't ease the transition. Dyer said he was more comfortable after learning the team's basic defensive schemes during spring practices, which should help him on the field this season.
Bowen agreed.
"Zach's a good athlete," Bowen said. "But just mentally, just understanding the position and knowing a lot of the small things ... he's come a long ways and made a lot of improvement that way where now he can recognize route combinations and do things along those lines. He's made a lot of strides."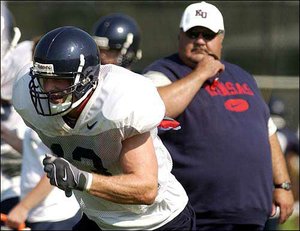 Despite splitting time between offense and defense, Dyer ranked seventh on the team with 48 tackles.
It wasn't his first time on defense. The Olathe South product played safety and quarterback in high school, as did Derby's Reid -- Dyer's main competition for the strong safety job.
Reid also is in his first year at safety after playing linebacker as a freshman. The two haven't talked much about their position changes.
"We have a little bit," Dyer said, "but he played defense all last year so it's not a whole lot different being a linebacker or safety. You've got to know what the other positions are doing."
Reid winning the position battle could force Dyer to the bench, probably making him the only co-captain without an offensive or defensive starting position.
It's not a scenario Dyer worries about, though.
"You don't vote for someone as a captain just because they're a starter," he said. "It's everything they've done, really."
Everything Dyer does and has done at KU includes special teams as he plays on most of the Jayhawks' kick, punt and return units. He doesn't see his jack-of-all-trades act as anything special, though.
"There's quite a few people who are willing to do whatever it takes and switch positions," he said. "Every year we've got quite a few guys switching positions or sacrificing in some other type of way. That's what makes up a team."
More like this story on KUsports.com