The first item on Bill Self's agenda Monday morning was not to hang pictures on the barren white walls of his new Kansas University men's basketball office, but to phone his predecessor, Roy Williams.
"As soon as I called him I said, 'Coach, I've been here a couple hours and this seat is already hot,'" joked Self, referring to the mythical "hot seat" he inherited as successor to KU coaching legend Williams, who last Monday resigned to take a similar job at North Carolina.
"He said, 'Oh, Bill, it's not either,''' Self added with a laugh. "I am sure we will talk in the future. He wants KU to be successful. I feel that 1,000 percent."
Self, who on Monday was introduced as the eighth men's basketball coach in KU history -- he'll earn $1.1 million a year for five years -- joked a lot about his new "hot seat" Monday.
He broke out in an ear-to-ear grin as he was presented an "official head coach's chair" by KU Chancellor Robert Hemenway, who opened Self's introductory news conference at Hadl Auditorium on a light note.
"We would be glad if you kept it the next 25 years," Hemenway told Self and 200 or so athletic department staffers, KU players and fans.
"I just touched that chair and it already feels very hot," Self said, breaking up the audience.
'A career-ending job'
Self, who compiled a 78-24 record the past three years at Illinois after going 74-27 in three years at Tulsa and 55-54 in four seasons at Oral Roberts, had the undivided attention of all Kansas fans when he said KU would be his final career stop.
Self has been rumored as a leading candidate to take over for Eddie Sutton at Self's alma mater, Oklahoma State, when Sutton elects to retire in a few years.
"This is a career-ending job," Self said. "My future is not in Stillwater. It is in Lawrence. This is a once-in-a-lifetime opportunity. I think contractually there'll probably be a couple of things in there to make sure that couldn't happen. But I can tell you right now that (job talk) is over."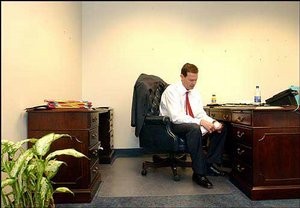 Later, in his office, Self reiterated his position on KU being his final stopping point.
"I am not leaving myself an out," he said of the Oklahoma State opening. "I meant what I said. I'll retire here or somebody is going to retire me."
The decision process
As to how he exactly was hired, Self explained the happenings of the past several days.
Self said he first talked with interim athletic director Drue Jennings about the KU job "for 10 minutes on Wednesday" and to Hemenway "five minutes on Thursday," talks not getting serious until Friday when Self decided to cut short a family vacation in Florida and return to his home in Champaign, Ill.
He accepted the KU job late Saturday night.
"The thing I wanted to do is -- and I know it bothered some people at Illinois -- I didn't want the talks to progress unless I felt like I could pull the trigger," Self said. "I told our players that we left our vacation not to come back to tell our players we were going to Kansas, but to come back to a place where we knew a decision was going to be made in 24 hours.
"I woke up Saturday morning and I was going (to KU). I talked to one person I totally respect and I wasn't going. And then by 8 Saturday night we had made the decision that we were going, if in fact everything lined up, and that's when parties got busy."
Self, his wife and two children flew Sunday afternoon on a private jet to Lawrence, where he met with KU staff members and Jayhawk players. He put in a full night at the office, leaving work at 2:30 a.m. after phoning West Coast KU signees Omar Wilkes and David Padgett.
"People assume it was a done deal (all last week). It was not remotely close," noted Self, who said he struggled in making the decision to leave a 26-9 Illinois team that returns eight of its top 10 players next season with a batch of talented recruits coming in.
"I am leaving behind an unbelievably good situation," Self said, "a great fan base, a great administration and great young players that were basically committed to the cause and did everything they possibly could do to prop me up and make me look good.
"When that is being done, it always pulls on your emotional strings to walk away from people that you know have been so good to you."
Athletic director search next
As far as the administration at his new school ... well, Self currently has no boss.
KU is seeking a new athletic director to replace Al Bohl, who was fired earlier this month. Jennings said Monday he still had no interest in becoming permanent athletic director.
"I visited with the chancellor and he made me feel real comfortable in the direction he's headed," Self said of the athletic director search. "However long it takes the chancellor and whoever to get the perfect guy in here to be athletic director is how long it should take. This place will be fine until that occurs, and that was not a factor in my decision at all."
Self will employ three full-time assistants and two administrative assistants on his KU staff. He will bring Norm Roberts and Tim Jankovich with him from Illinois. The final full-time spot could go to someone with KU ties, including current assistant Ben Miller, former KU manager and current Lincoln University coach Bill Pope or even ex-Jayhawk players Danny Manning or Kevin Pritchard.
"It's real important we have somebody in place that helps tie things together that's been here and certainly understands Kansas and helps sell Kansas," said Self, who will be leaving town for the last nine days of the current recruiting period, with visits to each of KU's four signees also on tap.
"When you look at a staff, don't look at three positions, look at five," he added. "We'll gather information and massage it to give us the best staff in America."
More like this story on KUsports.com