Al Bohl struck back at Kansas University administrators and basketball coach Roy Williams after Bohl was fired Wednesday as KU athletic director. Bohl attributed his sacking to a power struggle and feud with Williams.
Bohl opened his news conference Wednesday from his driveway, saying, "This is a sad day for college athletics when a basketball coach has the power to hire and fire a university's athletic director."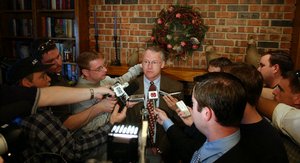 Later, as he addressed the media, Bohl again blamed Williams for the firing, saying, "I believe the Kansas basketball coach had the power to hold his athletics director in his hand like a dove. And he had a choice to either crush me with his power of influence or let me fly with my vision for a better, total program. He chose to crush me."
Bohl held his news conference at his Lawrence home immediately after KU Chancellor Robert Hemenway announced Bohl's departure in a campus news conference. Hemenway said Bohl will be replaced by A. Drue Jennings, a former executive with Kansas City Power & Light Co., who will serve as interim athletic director until a national search for Bohl's successor is completed.
On why he was having a news conference on at his home, rather than on campus, Bohl said, "They wouldn't even let me talk with the media on campus."
Also at his news conference, Bohl said "There's no question that I've been beaten up maliciously."
The Journal-World reported Wednesday morning that Hemenway was told as long as six weeks ago by Williams that there was no room for negotiation: Either Bohl would be fired or replaced, or Williams would leave.
Sources close to the chancellor, who spoke on the condition of anonymity, said Hemenway had previously spoken with Bohl with the hope Bohl would resign. Now there is concern that Hemenway has taken too long, and the delay might play in Williams' decision to stay at Kansas or take the vacant head coaching position at the University of North Carolina.
There has been speculation that Bohl would have to be fired for Williams to stay on as KU's head men's basketball coach and not leave Kansas for the job at Chapel Hill. (See earlier stories on this.)
At his news conference, Hemenway said Dick Baddour, North Carolina athletic director, had contacted the University at 11:30 a.m. Wednesday, though Hemenway wasn't sure of Baddour's reason behind the call.
"It's a little hard to say whether it's asking permission or it's notification -- but they said they would talk to Roy, and I was not surprised that they called."
Hemenway denied that he had been pressured by Williams to fire Bohl.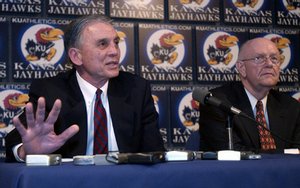 "Roy Williams has never once said to me 'Al Bohl must go,'" Hemenway said.
Hemenway met with Bohl Wednesday morning and asked him to resign, but Bohl refused.
"I encouraged Al to resign," Hemenway said. "He was adamant about not resigning."
At the news conference, Hemenway said he had discussed the leadership of the athletics department with Bohl during the past six to eight weeks. The chancellor said he also talked with members of the KU Athletics Corp. board, coaches and other athletic department staff, alumni and contributors.
"On the basis of these conversations and my own evaluation of the situation, I came to the conclusion a change of leadership was needed at this time."
Hemenway said he delayed announcement of his decision until after the KU basketball season. "Announcing a change while the men's basketball team was still in contention for the title would have been more of a distraction," he said.
Jennings, 56, played football at KU for four years and is currently a member of the KU Endowment Association Executive Committtee and KU Alumni Association Board. He served on the KU Athletic Corporation Board from 1991 to 1995. He will not be a candidate for the position.
"I am extremely devoted to the university and thus to Chancellor Hemenway," Jennings said. "When I get the opportunity to assist the university in some meaningful way, I'm happy to try."
"It's kind of a dream come true for an ex-jock and a not-too-good one at that."
Hemenway said he expects internal candidates to be given strong consideration for the position. Longtime employees John Hadl and Richard Konzem have been mentioned as possible replacements from within the athletic department.
Hemenway also said that he would take a more active role in this search than the one he played during the process that brought Bohl to KU. He added that the process could take some time.
"Realistically, it's going to take two or three months," Hemenway said. "I want to move forward and move forward quickly, but obviously you've got to do it right."
Hemenway noted that he had discussed Jennings' appointment with Williams, who expressed his support for the move.
In a news release issued by the KU athletic department, Williams said, "Drue Jennings is an outstanding individual who truly loves the University of Kansas. Drue has given a tremendous amount of his time and energy to the University over the years, and this is another example of that.
"He is a very ethical and organized person, and we are lucky to have someone with his integrity to lead the athletic department at this difficult time," Willaims said.
In the KU athletic department release, Williams said this about Bohl: "It is always sad for the individual involved when a situation such as this occurs and a change is made. We had difficulties, and we were not as cohesive as the athletic department needs to be. This made the atmosphere somewhat difficult.
"Dr. Bohl tried extremely hard, and it is important now that we stop blaming individuals and pull together to be as successful as we can be."
In that same release, Jayhawk football coach Mark Mangino said, ""I'm sorry Al will no longer be with our athletic department. I wish him and his family the very best. Our athletic department must forge ahead collectively and always keep the best interest of our student-athletes the priority."
(Click here to read the KU media release.)
(Click here to visit the Journal-World's in-depth section about the Al Bohl era at KU .)
---
6News will be airing a special report on the firing of Al Bohl at 10:00 on Sunflower Broadband's Channel 6, with the latest information, reaction and analysis. KUsports.com and LJWorld.com also will have continually updated coverage throughout the night.
More like this story on KUsports.com