Movie director Spike Lee once reasoned that Michael Jordan's gravity-defying jumps came because of his shoes.
"It's gotta be the shoes," said Lee's commercial character, Mars Blackmon, in a famous Nike spot.
The same could be said for Kansas University's Keith Langford - depending on which pair of rubber soles he's sporting.
The sophomore is quite fashionable when it comes to his footwear. At times Langford will even change "kicks" during a game.
Watch closely and you may see him do so during tonight's KU-Holy Cross basketball game. Tipoff for the Preseason NIT and season-opener is 8 p.m. at Allen Fieldhouse, with a live telecast on ESPN.
"It goes back to high school," Langford said. "If I wasn't playing well in the first half, I'd switch my shoes."
He did Tuesday in the Jayhawks' 101-66 exhibition victory against Washburn.
After scoring just four points in the first half, Langford scored 11 of Kansas' first 13 points of the second half after trading a pair of white Nikes for a "worn-in" pair of black-and-blue boats.
"I just decided to change and see how things would go," Langford said. "I hate the fact that it gets to me sometimes. But it does, and when the urge comes to change the shoes, I guess I'll have to."
Terp troubles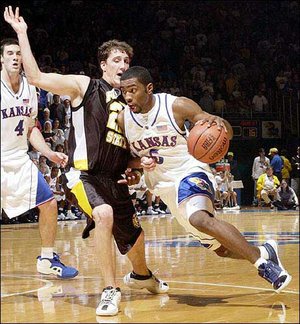 The urge came in last year's season-ending loss to Maryland, but Langford was limited to just one set of shoes against the Terrapins.
"I was feeling sick at halftime because I left my shoes back in the hotel," he said.
Langford's sneaker superstition probably didn't have as much to do with his illness as did Maryland's Juan Dixon.
Dixon, the Final Four MVP, lit up the Jayhawks with a career-high 33 points. His 10-of-18 shooting performance - including a couple of clutch shots late that propelled Maryland to the championship contest - came mostly against Langford, Kansas' primary defender assigned to guard him.
"Everybody's still humbled from that loss," Langford said. "To be so close and then to come up empty : it sits in the back of your mind."
So Langford became a laborer during the summer.
And the Fort Worth, Texas, native said he has strengthened his skills with a variety of moves that may match his numerous Nikes.
"I'm coming into this season real confident," Langford said. "I feel that I'm two or three times the player I was last year."
Strong finish
Late last year, Langford might have been as good as any Jayhawk. The former North Crowley High standout, who averaged 7.9 points and 3.3 rebounds per game as a freshman, made his mark in the NCAA Tournament.
Langford's averages jumped to 10.8 ppg and 4.2 rpg during five tournament games, but it was his play during the Midwest Regional in Madison, Wis., that helped the Jayhawks make their first Final Four since 1993.
"I had to get myself a lot more aggressive," he said. "Take things, instead of letting them come to me. I finally understood that coming into NCAA Tournament time, I started playing a lot harder."
Langford's new strategy showed when he scored 15 points on 5-of-7 shooting in KU's 73-69 regional semifinal victory against Illinois.
In the regional final against Oregon, Langford let loose with a career-game. He scored 20 points and grabbed eight rebounds, both career-bests. Langford's thunderous put-back dunk late in the second half, fueled a furious KU run that ended with a lopsided 104-86 victory.
"That was just nice," said teammate Bryant Nash, struggling for words that would do the slam justice. "That was like the arrow through the heart."
The highlight certainly showed Langford's team-best leaping ability.
"I think I have a special talent of going to the rim," said Langford, who no longer has the special pair of sneaks he wore against the Ducks because the air bubble popped during the summer. "But I also want to mix it up and be able to shoot the ball outside, too :quot; not only be respected as somebody who can slash, but be respected as somebody who can shoot the outside jumper and be the all-around player."
Hard at work
Langford went to work quickly after the Jayhawks' misstep against Maryland.
During the summer he perfected his ballhandling while playing point guard for the NIT All-Stars, who went 6-1 on a tour of Canada. He shot hundreds of shots a day and showcased his refined touch during the prestigious Nike Camp in Indianapolis. He bulked up, adding mass to his 6-foot-4, 205-pound frame. And, of course, he worked on what coach Roy Williams loves :quot;-defense.
"I said last year, at the end of the year, that he came further defensively in any one year than any freshman that I have ever coached," Williams said.
Langford hopes to continue the trend.
"It's a real big difference from my freshman year to sophomore," Langford said. "Last year, some of the things I did were extras. Now those things are mandatory. I'm going to have to come in night in and night out and put up numbers like I did toward the end of the year."
Now, about that footwear :
"I've got some different socks, but I can't give them away yet," he said with a smile.
It's not just the shoes?
"Nah, it's the whole foot fetish thing," Langford said.
More like this story on KUsports.com