Greg Heaggans returned five kickoffs for 119 yards Saturday during Kansas University's 64-0 loss to Kansas State. In the process, he set a KU single-season record with 610 return yards.
When KU football coach Mark Mangino announced his players of the week Tuesday at his weekly news conference, Heaggans was among those honored. The freshman from Kansas City Schlagle High wasn't picked for his special teams effort, though. Heaggans, who's listed on KU's roster as a defensive back, was named offensive scout team player of the week.
"He's the multi-purpose guy," Mangino said. "He plays corner. He plays special teams. We use him when we're going to play a quarterback that's really active and can move around the pocket. He's a scout team quarterback. He's a guy that helps us in a lot of ways that are just not viewed on Saturday afternoons, but he's a talented guy."
The Jayhawks (2-8, 0-6 Big 12) will face another active quarterback Saturday at Nebraska (6-4, 2-3). Junior Jammal Lord ranks third in the conference with an average of 115.5 rushing yards per game and also averages 95.7 yards passing.
That means Heaggans could be wearing Lord's No. 10 in practice this week.
It's uncertain, though, what position Heaggans will be playing next year. The 6-foot, 190-pounder started this season as a wide receiver but was moved to the secondary. He ranks ninth in the nation with an average of 26.5 yards per kick return.
Heaggans was a quarterback, defensive back and return man at Schlagle, where he was an all-state and all-metro selection and was ranked as the top athlete in the state by MoKan Football. He had six interceptions as a senior and also averaged eight tackles a game. As a quarterback, he passed for 726 yards and seven touchdowns that season and rushed for 1,325 yards and 23 TDs.
"He's college football's utility man," Mangino said. "We'll use him where we need him right now and then we'll visit with him in the winter and see where he's most comfortable. We'll talk about where we think that he can most help us. Whatever it is, I'm sure he'll be anxious just to get out there and do it. He's a young guy that really enjoys playing football."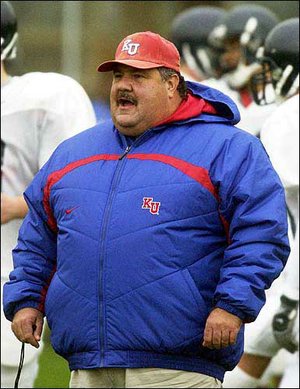 Players of the week: Freshman linebacker Kevin Kane was named defensive player of the week after logging 12 tackles against the Wildcats. Senior Jake Letourneau was the top special teams player. Freshman linebacker Brandon Perkins was scout team defensive player of the week.
No offensive player was selected after the shutout.
Waiting for Whittemore: Mangino said it's uncertain if quarterback Bill Whittemore will be able to play against the Cornhuskers. The junior injured his left knee two weeks ago at Missouri and sat out Saturday's loss to Kansas State.
"Bill is improving greatly," Mangino said. "He really looked good doing some exercises and some treadmill stuff and riding a bike. Right now, we can't tell. He could play Saturday. There's a very good chance that could happen. We've just got to go day-to-day and see how he continues to progress, but we think that it's a possibility."
If Whittemore is unable to play, senior backup Jonas Weatherbie will make his second start.
More like this story on KUsports.com