Thirty-five pounds was what it took to turn Joe Bell's pasta bridge into a macaroni massacre.
But the Lawrence High School senior was pleased with his team's performance in the design competition, which was part of the Kansas University Engineering Expo on Friday.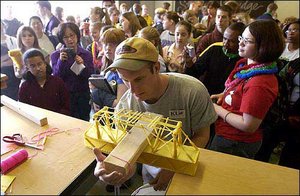 "We didn't really have a design," Bell said. "We just stuck a bunch of lasagna together with Elmer's Glue."
This year's expo, organized by the Engineering Student Council, was the largest in the event's history. About 800 middle and high school students registered to compete in events that required they design and build chemical-powered cars or rubber-band-propelled airplanes. Organizers estimated another 1,200 people visited the event.
"The overall goal is to get the word of engineering out in the community," said Jennifer Gunby, a civil engineering major and the event's chairwoman. "Once we tell them how great engineering is, we think KU is one of the best places around to study."
Displays and demonstrations throughout Learned Hall explained engineering principles. KU students showed off their race car and concrete canoe and taught visitors about such topics as sound waves and computer networking.
The morning's keynote speaker was retired Rear Adm. Gene Kendall, a 1971 School of Engineering graduate who helped establish KU's minority engineering programs in the late 1960s and early 1970s.
One new event tested the power of duct tape. Students demonstrated their design skills by duct-taping a friend to a brick wall. They had four minutes for taping before the chair was kicked out from under the taped participant.
A group of eighth-graders from Shawnee Heights Middle School in Topeka recorded the day's best result they taped Kyle Rocha to the wall for 2 minutes and 44 seconds.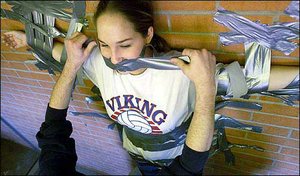 "We watched these older kids do it, and they did it really well, but he was too heavy," Paul Spacek said.
"We pretty much glued (Rocha) to the wall," David Beaver said.
And what did the competition teach them about engineering?
"You can use duct tape for anything," Michael Voss said.
More like this story on KUsports.com