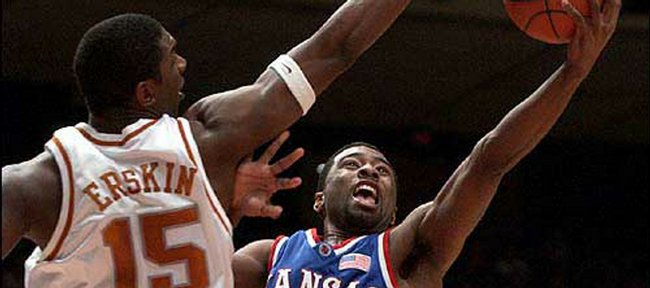 Austin, Texas — Everybody knows Kansas University can win basketball games when scoring in the 100s.
Now everybody knows the Jayhawks can win allowing 100 points, too.
"That was fun to watch," KU coach Roy Williams said after the Jayhawks' 110-103 overtime victory over Texas in a Monday night shootout at Erwin Center. "I've said a lotta times I'd rather play in the 90s, 100s. It makes for some exciting games."
None was more exciting than Monday's game, the first in KU history in which both the Jayhawks and their opponent topped the century mark.
The Jayhawks (22-2 overall, 11-0 Big 12), who have reached the 100-point mark eight times this season, prevailed because of a dandy five-minute overtime session in which the Jayhawks hit five of five shots to UT's 2-of-7 shooting.
One of the 14 NBA scouts on hand to check out guys like Drew Gooden (28 points, seven rebounds), Nick Collison (15 points, 12 boards) and Kirk Hinrich (14 points, 12 the first half) suggested the Jayhawks played "perfect" basketball in the extra session.
"It was real close, darn close to that," KU senior guard Jeff Boschee said.
Boschee hit six of 13 threes — including two big threes in overtime. Boschee's first trey erased a 98-96 deficit, and his second opened an insurmountable 105-100 advantage with 2:05 remaining.
"We had great execution, came off picks, stepped up and made some shots," added Boschee, who was three off his career high in treys.
KU outscored Texas (16-8, 7-4)14-7 in overtime with Boschee tallying six points, Collison and Gooden scoring three apiece and Hinrich two off an assist from Aaron Miles, who finished with a career best 13 assists. Two assists came off inbounds passes as KU hit four inbounds passes for layups.
"Like coach said in the locker room, 'It's not supposed to be easy," said Gooden, who went 2-for-9 shooting the first half, good for six points, but finished 10-of-14 after intermission. "This is a tough league. We've had some big, big wins that weren't that close. Tonight we won a close game.
"We had the last shot to go for the win. If we made it we win and go home. If not, we battle five more minutes. We didn't make it so we went another five minutes and were tough enough to win the game."
KU indeed had the last possession of regulation, the game deadlocked at 96.
Hinrich, who scored 12 points the first half, took the basketball with 15 seconds left, dribbled into the lane and missed a 10-footer. The ball kicked out to Miles, who missed a 12-footer at the buzzer.
"No, it didn't," Hinrich said, asked if the last play worked properly. "We tried to get it inside. I bobbled it so I went up. I thought I could get contact. I thought I got it, but didn't.
"We looked at overtime as a fresh start, a five-minute game. We wanted to run. We did a great job running with the ball."
There were plenty of heroes for KU. Freshman Wayne Simien scored a career-high 17 points with 10 rebounds, including 11 points and seven boards the first half while subbing for Collison, who sat out the last seven minutes of the half because of foul woes.
Also, Brett Ballard made a big three to bust a 79-all tie right after Williams took Gooden out of the lineup for hoisting an ill-advised three-pointer.
Boschee, perhaps the star of the game, hit the two threes in OT, including the one to give KU the lead for good. He also hit a three with 14:30 left to bust a 60-all tie and open an 8-2 run and another three to give KU a 77-74 lead at 9:27.
"Except for foul trouble, I thought we played very well," Williams said. "We talked about how Texas had been shooting the ball well recently and they made a bunch of shots tonight."
The Longhorns, led by Brandon Mouton's 25 points off four threes, hit 10 of 21 threes to KU's nine of 22.
"We went to a zone early in the second half to protect Drew," Williams said. "It was not smart on my part because they continued to make 'em.
"At the nine-minute mark, we decided to play man throughout."
Collison was one of four from the line, including one miss in OT and the front end of a one-and-one with 1:13 left in regulation.
Getting its usual production from Hinrich, who scored 12 points, plus an unexpected offensive boost from Simien (11 points) and Miles (9), the Jayhawks led, 48-44, at halftime.
The Jayhawks led despite the fact Gooden and Collison had just six points apiece the first half.
The Jayhawks, who led by as many as nine (26-17 at 12:21 following five straight points by Simien), trailed 42-41 with 1:59 left in the half.