Creighton's full-court pressure was coming. Marian Washington knew it, and she made sure her Kansas University basketball players knew it, too.
"I didn't think we'd have trouble with it," KU guard Aquanita Burras said. "We worked on it the last two practices."
Practice didn't make perfect. Or even come close.
Creighton's fullcourt press forced a glaring 17 first-half KU turnovers on the way to a 72-58 triumph on Saturday afternoon in Allen Fieldhouse.
Creighton's early defensive blitz rattled the Jayhawks so badly they scored only four points in the first 10 minutes, falling behind by a dozen points and never recovering.
"We have to be a lot more composed under pressure," Washington said. "Their pressure got to us in the first half."
Burras, who led the Jayhawks with 15 points while playing all 40 minutes, couldn't figure why Creighton's press had the Jayhawks so bamboozled.
"We just didn't have that oomph," Burras said.
Sophomore forward Blair Waltz, who made only two turnovers in 31 minutes on the floor, was more analytical.
"We held the ball too long," Waltz said. "We waited for the trap to come. We didn't read their defense. We need to learn, and that comes with experience."
KU was guilty of only eight turnovers in the second half when Creighton coach Jim Flanery called off the pressure with his team in foul trouble. The Jayhawks did make 19 of 23 free-throws attempts, but couldn't overcome the turnover gap and the Bluejays' 30-26 rebounding advantage.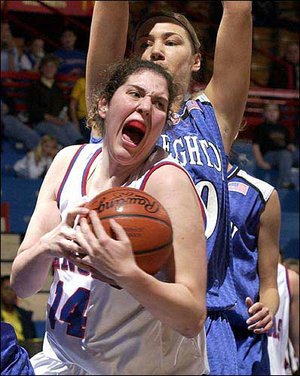 When the Jayhawks did battle back to within nine points a couple of times late in the second half, Creighton usually answered with a three-point goal - a weapon absent from the Jayhawks' arsenal.
"They kept hitting threes," Burras said, "and our intensity went down."
Creighton made only 9 of 26 three-pointers, yet the Bluejays swamped KU in that category. Burras was 1-for-2 from beyond the arc, but she was the only Jayhawk who even attempted a shot from beyond the arc.
Stacey Becker, a transfer from Wichita State, will become eligible the next time the Jayhawks play on Saturday at UMKC and, said Washington, Becker "will help our outside game a little bit."
Washington could also use some bench help. Her top reserve, freshman guard Erica Hallman, reinjured an ankle and played only 18 minutes. Still, she had a team-high five assists.
"It's a chronic ankle problem," Washington said. "It happens every so often. That's just the way it's going to be. It's very frustrating. We need Erica on the floor, no question about that."
Creighton boosted its record to 4-2 despite a sub-par game from Christy Neneman, the reigning Missouri Valley Conference player of the year who was averaging nearly 18 points and about eight rebounds a game.
Neneman had 14 points and two boards. The 5-foot-10 junior guard also fouled out with 6:14 remaining when she was called for a charge under the basket (her fourth), then mouthed off to an official and was hit with a technical foul (her fifth).
Laura Spanheimer, a 5-9 sophomore guard, picked up the slack with 20 points. Spanheimer made 4-of-8 three-point attempts.
"They're a tremendous three-point shooting club," Washington said. "We didn't lose to a poor club. We have to get ready for the Big 12 and to do that we need to play good teams. We played one tonight."
KU has now dropped three in a row after winning its first four.
"Our intensity was better," Washington said. "But our execution needs work."
More like this story on KUsports.com