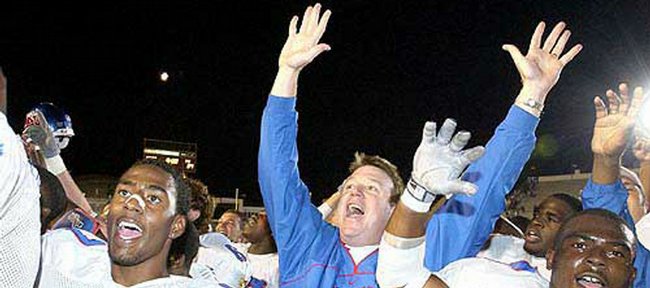 Lubbock, Texas — Two hours before kickoff Saturday night, Kansas University quarterback Mario Kinsey was throwing passes to teammate Marcellus Jones in an empty Jones SBC Stadium.
Five and a half hours later, the stadium was filled, but it was just as quiet after Kinsey directed a miraculous come-from-behind, 34-31, double-overtime Big 12 victory over Texas Tech.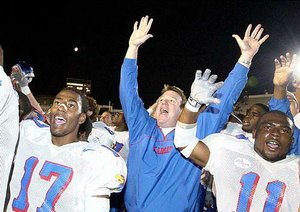 "This is huge for us," KU coach Terry Allen said. "They could have quit and they didn't. When the offense came back, it was just a different feeling."
Trailing 24-16 with two minutes remaining in regulation, Kinsey kept his poise in guiding the Jayhawks 63 yards in 11 plays. Following a time out, KU faced a third-and-16 from its own 44-yard line.
During the week, Allen talked about running the "chicken in a basket" play also known as the "hitch and pitch" or the "hook and ladder."
Whatever the name, the play worked.
"We'd been working on that this week in practice," Kinsey said. "I didn't think we were going to use it because we hadn't used it all game, but it came up big when we did."
Kinsey found Termaine Fulton for a six-yard gain, and Fulton lateralled to Derek Mills, who bolted 35 yards down the sideline to the Texas Tech 15.
The Kinsey-Fulton connection came through again six plays later.
Facing third-and-goal from the five-yard line, Kinsey side-stepped the Red Raider rush up the middle and tossed a bullet to Fulton, who made the grab from his knees.
"I'd seen that they brought everybody and they were going man coverage," Kinsey said. "He tried to jump in front of Termaine and Termaine cut back out. I threw it low to Termaine, he scooped it up and it was good."
The Jayhawks then ran an option play for a two-point conversion with Kinsey pitching to Reggie Duncan, who slipped into the end zone untouched to tie the game. KU's sophomore running back who's from Kileen, Texas helped ruin the Red Raiders' homecoming by gaining 227 yards on 38 carries.
"This just feels good to beat Texas Tech at their homecoming," Duncan said. "Their fans were talking a whole bunch of trash. I ain't going to tell them what I want to say, but they know what I want to say."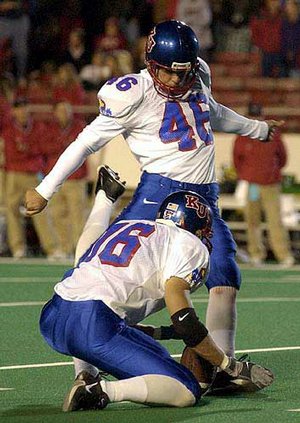 Kinsey, of Waco, Texas, came through again during the first overtime period. After a Duncan run for one, the KU quarterback scampered 24 yards around the left end on an option play and tip-toed down the sideline.
"That was big right there," Kinsey said. "That was big for the team, big for everybody."
After freshman kicker Johnny Beck's extra-point, KU had a short-lived 31-24 advantage. The Red Raiders answered with a TD of their own.
KU scored first again in the second overtime on Beck's 37-yard field goal. Texas Tech's Ricky Williams gained four yards on the ensuing play, but KU senior linebacker Marcus Rogers picked off Tech QB B.J. Symons who had replaced Kliff Kingsbury after Kingsbury sprained his right thumb to clinch the victory.
"I just saw them crossing," Rogers said of the Red Raider wideouts. "They were doing it all game. My coaches told me to watch for it, so I just backed up and ran right into them."
Kinsey didn't start the game because, Allen said, "he broke some rules" namely missing practice to catch a flight home before the Jayhawks' bye weekend.
The red-shirt freshman was just happy to have played a part in the victory.
"This really turns it around," Kinsey said of the season. "We're 2-2 going to play Oklahoma. We feel we can play with anybody we step on the field with, just sometimes our attitudes get low."
Texas Tech had dominated the third quarter. The Red Raiders opened with a 16-play, 54-yard drive, but kicker Robert Treece was wide left on a 33-yard field goal attempt.
Undaunted, Tech forced a KU punt after three plays and less than a minute. The Raiders responded by covering 52 yards on eight plays, setting up Williams' 24-yard touchdown reception.
The scoring drive, on which Kingsbury sprained his right thumb, included three conversions on third-and-long on gains of 15 yards on a personal foul, eight yards on a pass to Williams and the touchdown.
The Jayhawks and Red Raiders traded scores in a slow-moving first half as Tech claimed a 17-13 halftime advantage.
KU drew first blood after sophomore QB Zach Dyer engineered an 84-yard, 12-play scoring drive to open the game. Duncan was the difference-maker, covering 63 yards on six carries including a 45-yard run down to the 25-yard line. The drive seemed to stall as Beck lined up for a 33-yard field goal, before KU called time out and Allen opted to go for it on fourth-and-1 from the 16.
Dyer kept the drive alive on a QB sneak, and four plays later hooked up with fullback Austine Nwabuisi his first career touchdown for a one-yard TD, giving the Jayhawks an early 7-0 edge.
Kansas pushed the lead to 10-0 after cornerback Carl Ivey blocked a 45-yard field goal attempt, and cornerback Andrew Davison scampered 36 yards to the Texas Tech 34-yard line. Beck was given the opportunity to kick this time around, though, drilling a 42-yard attempt.
Later he improved to 7-for-7 all-time in his collegiate career, connecting from 42 yards to close the scoring in the half.
Between Beck's field goals, Texas Tech scored 17 unanswered points. After going three-and-out on their first possession, the Red Raiders responded with scoring drives of 64 yards in 15 plays, 94 yards in seven plays, and 53 yards in seven plays.
More like this story on KUsports.com