Kansas University softball coach Tracy Bunge experienced a bit of d vu Sunday.
The cold, windy weather during KU's 6-3 victory over Texas at Jayhawk Field reminded Bunge of the Jayhawks' sweep of the Longhorns two years ago.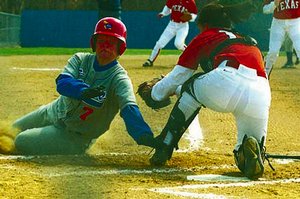 "It's our welcome present to Texas every year, it seems like," she said. "It might be colder, but this is the exact kind of weather two years ago when Texas came up here and we swept them and they were ranked nationally very high and it propelled us. We really came on strong two years ago after sweeping Texas. A coach can hope this is the same kind of thing."
Texas scored two runs in the first inning, but the Jayhawks tied the game in the bottom of the first when Leah Tabb drove in Shelly Musser with a double and Courtney Wright drove home Tabb two batters later.
Tabb gave KU the lead in the second inning, driving in Megan Urquhart and Erin Garvey with a single. Tabb finished 3-for-4 with three RBIs.
"We've been looking for that for a while," Bunge said. "She's been in a real slump here of recent times so it was very nice to see her come out and swing the bat. Every time up, she hit the ball hard, and even the last time when she lined out, that ball's hit right on the nose. I'm very pleased to see her back swinging the bat well."
KU (14-15 overall, 2-2 Big 12) scored a run in the third on a single by Leah Hansen and another run in the fourth on a sacrifice fly by Kelly Campbell.
Texas scored its final run in the top of the fifth on a home run by Deeanna Williams, and loaded the bases with no outs in the top of the seventh inning, but Kara Pierce relieved Kirsten Milhoan (5-6) and ended the rally.
"I was very confident that (Kirsten) could have gotten out of it if I'd left her in the ball game," Bunge said, "but I felt that a couple of things positively had happened for them and we just needed to make a change right there."
Pierce recorded her second save.
"Kara did a great job in relief," Bunge said. "She hasn't been in that role a lot so it was nice to see that she handled the pressure and really did a good job of shutting the door there."
Urquhart, who was named MVP of the Holiday Inn Invitational last weekend at Jayhawk Field, went 1-for-1 with two runs scored. Her one hit was a single to left in the sixth inning after being walked in the first, second and fourth innings.
"I don't think they were trying to pitch around her," Bunge said, "but it's very frustrating for a hitter, especially a hitter who's been reasonably hot like Megan has, to go up to bat and not get a strike. It's frustrating for a hitter, but she did a good job of keeping her patience and not being overanxious as a result of getting walked so much. That's what you're supposed to do and it was nice to see her do that."
More like this story on KUsports.com