While the men's swimming and tennis programs have been cut at Kansas University starting next year because of budget restraints, the Jayhawk bowling team is fortunate enough to not to fall in the same category.
Rather than receive support from the athletics department, the team of 15 men and seven women is sponsored by the Jaybowl in the Kansas Union, and also receives support from fund-raising events by the bowlers.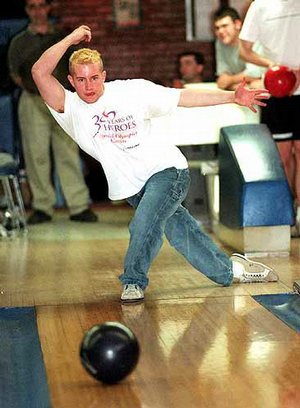 "That's the good thing about having to do our own fund raising," Tom Partridge, a KU senior bowler from Olathe, said. "No one can take away our money and we're done."
According to coach Michael Fine, the team raises much of the money for expenses itself, including Bowling for Excellence, where team members sought out per-pin pledges and then bowled a game. They raised more than $12,000 with the event last fall.
Sponsors and the Jayhawks success in tournaments also help keep the team going.
"We've had some giveaways and some flat out donations to the program," Fine said. "And our program's become successful enough that we win they call it scholarship money but it's money that goes back into the program and helps perpetuate it."
KU has had a successful year, with the men's team placing second in two tournaments and third in another, and the women's team placed third in the ACU-I Tournament in Manhattan. Both the men's and women's A teams won the Jayhawk Classic on March 11 at Jaybowl.
There's been individual success as well. Partridge has won two non-sanctioned tournaments, and four bowlers have rolled perfect games.
Partridge placed first at a tournament in Emporia with a 226 average for 12 games and won the Jayhawk Classic with a three-game score of 782.
Lawrence sophomore Jesse James bowled a 300 at the Notre Dame Blue & Gold Classic, the first in the tournament's history. He also rolled a perfect game on his way to a second-place finish at the Emporia tourney.
Barri Forkos, a senior on the women's team, rolled a 300 during the National Collegiate Match Games Tournament in St. Louis during Thanksgiving weekend. It was the first 300 ever for the women's team.
"We've had a number of people who are really getting on top of their game this year," Fine said.
Two other bowlers have rolled perfect games in league play.
Glenn Harrison scored a 300 last fall in Jaybowl leagues, the first at the site since 1971, and Marc D'Errico hit the mark March 11 during youth leagues at Royal Crest Lanes.
D'Errico's 300 was the second of his career and the second in the 13-year history of youth leagues at the bowling alley.
Like most members of the team, D'Errico was recruited by KU even though the team doesn't offer full scholarships, a problem that is often helped by academic scholarships.
"We've got a very small amount of scholarship funds," Fine said, "but most of the students we recruit are smart students as well. We like to recruit good students.
"At the level at which these men and women are bowling and what they're achieving competitively there's an advantage to being a good student. There's a a definite correlation."
More like this story on KUsports.com