Until about three years ago, Kansas University women's basketball coach Marian Washington never so much as glanced at an NCAA record book.
When finally she did, she was shocked to see former Jayhawk Lynette Woodard's entries shoehorned into such a small space.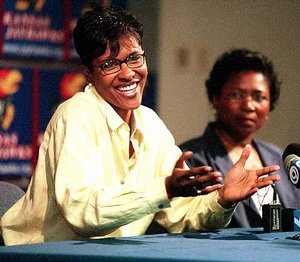 "Somebody told me they put the AIAW records on a different page," Washington said. "By doing that, they separate our history. I can't even find the words to explain it. We have no sense of our history. Just because she did what she did under the AIAW umbrella doesn't negate what Lynette did. She is a player who basically changed the game. By not recognizing that, they make it easy for people to overlook her incredible, extraordinary accomplishments, and that's a shame."
At KU from 1978-81, Woodard now a Kansas assistant coach scored 3,649 points. The four-time Kodak All-American's record still stands as the most career points scored by a collegiate woman.
Southwest Missouri State' Jackie Stiles on Thursday night became the NCAA's career scoring leader with 3,133 points.
But Woodard played in games sanctioned by the Association of Intercollegiate Athletics for Women. The NCAA began sanctioning women's play in the 1981-82 season, thus starting the "official" NCAA era of women's basketball.
Washington considers that revisionist history.
"History needs to be complete," she said. "We've sectioned off every major juncture of women's basketball, like the game reinvented itself."
Woodard was confronted with that at last year's Final Four.
"I was shocked and amazed to hear people talk about Immaculata College being the first team to win the national championship," Woodard said. "That's not the case. West Chester was. Everybody wants to say they started it, but we have a long history of the game. Basketball doesn't just start with when the NCAA blessed it. And it's not about Jackie and it's not about Lynette. It's about history. History is history. How do you live life if you don't know your roots?"
Washington has made her case to the NCAA. Basically, she wants college athletics' largest governing body to include the AIAW records along with the NCAA's. The NCAA's official 2000 women's basketball record book is 168 pages long; the section dedicated to pre-NCAA statistical leaders is two pages long, and there is no mention of the AIAW leaders among the NCAA leaders.
"There has been some discussion about it, but we have to go beyond discussion," Washington said. "The NCAA has to do what is right, and the NCAA could make it right. The game was the same. As powerful an organization as the NCAA shouldn't have to belittle an accomplishment that happened to be a little before them. It's like being married and losing your maiden name. It's not right. They could put all the records together. Put it in brackets that it happened in 1981, but put all the records together. That's what's right."
Both Washington and Woodard went out of their way to say they weren't belittling Stiles' accomplishment.
"What Jackie Stiles has accomplished is tremendous," Washington said. "But in terms of the all-time leading scorer in college women's history, it's Lynette. She has been slighted her entire career, but she's taken it in stride. I think she appreciates anyone who steps forward and questions what's going on. She's really always maintained a posture that's unbelievable."
Interestingly, Washington tried to recruit Stiles a native of Claflin to KU.
"We recruited her very hard, but a lot of things went on," Washington said. "Of course we wanted her. She was one of the top players coming out."
Stiles gave Woodard a nod Thursday night.
"Lynette Woodard was an incredible player," Stiles told the Associated Press. "I just want to say that even if they don't recognize her record, people will always know how great a player she was."
More like this story on KUsports.com