Robert Hemenway first offered Allen Bohl the task of overseeing Kansas University's troubled athletics department.
Then Hemenway offered Bohl his tie.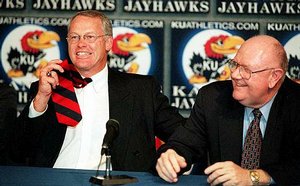 Bohl eagerly accepted both.
With Hemenway's crimson-and-blue tie secured around Bohl's neck, the 53-year-old Ohio native was introduced Thursday as Kansas' 13th athletics director.
"Talk about someone who will give you the shirt off your back," Bohl joked during a news conference at Kansas University's Hadl Auditorium, which was nearly filled with media members, coaches and athletics department staffers and coaches.
"The one (tie) he's wearing is the one I started the day in, and the one I'm wearing is the one he started the day in," added Hemenway, KU chancellor. "I wanted to make sure he was in crimson and blue for this press conference."
Despite Bohl's wardrobe shortcomings, Hemenway extolled Bohl as being equipped in every other manner to deal with KU's sagging athletics fortunes.
Bohl, AD at Fresno State the last five years, officially will take over for Bob Frederick Aug. 1. Frederick's 14-year tenure ends today.
After accepting the job, Bohl placed a call to new Kansas State AD Tim Weiser, who has "competed" against Bohl as a rival in-conference AD for most of Bohl's career. Weiser asked when Bohl would begin work.
"I told him I've already started," Bohl joked. "Every one of those purple Wildcat signs I see, I'm tearing down."
At Fresno State and during a nine-year stint as athletics director at the University of Toledo, Bohl oversaw football resurgence at both schools and built a reputation as a strong fund-raiser.
Both skills should come in handy at KU, where the football team hasn't been to a postseason bowl game since 1995 and where financial difficulties this year forced the athletics department to cut men's swimming and men's tennis.
"We're starting a new and exciting era for KU athletics," Hemenway said.
Bohl got the nod over three other finalists athletics directors Mike Hamrick of East Carolina, Doug Woolard of St. Louis and senior associate AD Kathleen DeBoer of Kentucky who interviewed Wednesday on campus with a 16-member search committee and with Hemenway.
Hemenway met with the committee Wednesday night and made his decision just in time to meet his self-imposed July 1 deadline.
"I felt his vision and my vision and most peoples' vision about KU athletics were congruent," said Hemenway, who said Bohl had agreed on a base salary of $255,000 annually, a dramatic rise from Frederick's $166,000 salary and topping the chancellor's own new salary of $219,420.
Bohl will be expected to improve KU performance nearly across the board. Despite the sixth largest budget in the Big 12, KU ranks last or next-to-last in the league all-sports standings. He'll also be expected to increase revenues while maintaining or improving the athletes' academic performance.
"Our athletics department isn't just about winning games," Bohl said. "We want to win games. But athletics is just one major component of the university."
Buckeye State background
A native of Vermilion, Ohio, and graduate of Bowling Green, Bohl earned his master's degree in education at Southern Mississippi and his doctorate in physical education administration at Ohio State.
At OSU, Bohl worked his way up to assistant AD before he became Toledo's athletics director in 1987. At Toledo, Bohl oversaw record-breaking fund-raising drives and season-ticket campaigns.
He went to Fresno State in 1996 and inherited an athletics budget around $12 million, he said. He'll leave behind a budget that has increased to $18 million $4 million short of Kansas'.
"Just because you have more dollars doesn't necessarily mean you have the better team," Bohl said. "Fresno State is funded less than KU, but we managed to win a national championship."
After having missed out on postseason football since 1993, Fresno State has been to two bowl games in the past two years, and FSU sold out all but one home football game last season.
Fresno State won the NCAA softball title in 1998.
Under rebellious coach Jerry Tarkanian, who was hired to his alma mater a year before Bohl's arrival, Fresno State has been to two straight NCAA men's basketball tournaments.
All told, Bohl boasted of five or six teams regularly ranked among the top 25 in the nation.
"Football and basketball are so visible," Bohl said. "But I'm not athletics director for football and basketball. I'm athletics director for all sports. I'm really going to focus on making sure we raise money, but I'm not going to neglect the other business of the athletics department."
The right fit
Bohl had been a candidate for at least three other athletic director jobs in the past year Iowa State, California and Minnesota.
"Quality people will always draw interest," Hemenway said. "Sometimes it's just not the right fit."
Bohl said Kansas was a perfect fit for him and vowed to paint the state crimson and blue.
"This won't just be in Lawrence," Bohl said. "I believe KU represents this whole state."
Bohl said his first few weeks on the job would be geared toward gathering information. He foresaw no drastic immediate action.
"The first few days of my appointment will be the time for me to gather as much information as possible," he said. Any immediate sweeping changes would "be like a coach coming in and deciding who all the starters were without having a practice."
More like this story on KUsports.com