Darryl Monroe always hoped he'd make a career out of baseball.
Little did know his future would be in the front office, not on the field.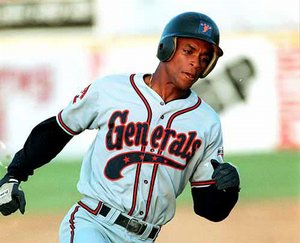 Monroe a former Lawrence High and Kansas University standout hung up his uniform in 1997. Last fall, he left his job as a scout for the Montreal Expos to become assistant director of player development for the Atlanta Braves.
"It seemed to me I needed to change direction," the 28-year-old Monroe said. "I decided it was time to go to the other side of the white line."
Monroe graduated from LHS in 1990, and went on to play ball at hometown KU. An All-Big Eight outfielder, Monroe played on Kansas' 1993 College World Series team. He returned for his senior year in 1994 and was tapped in the ninth round of the '94 draft by the Detroit Tigers.
Monroe played in the Tigers organization for two years before being released, and he played two more years in the independent Texas-Louisiana League.
He tried to get back into baseball with an organization, but the only call came from the Expos, who wanted him as a scout.
After much debate, Monroe decided to retire at the ripe old age of 25.
"I believe, at that point, I was the youngest scout I had known," Monroe said. "I don't think I've met anybody younger than me."
Monroe spent nearly three years as an Expos scout. His area of responsibility was Georgia, South Carolina and east Tennessee, and he lived in Marietta, which is awfully close to the Braves' home.
"Last fall, the Braves had an opening in the office, and I knew they were interested in me because they asked for permission to talk to me," Monroe said. "It was a position I was interested in. I didn't know if it was something I wanted to do so soon in my career, but I thought it was good to learn the administrative part of the game. I had knowledge of the Braves and their history since I was in Atlanta working for the Expos, so it seemed like a good move."
Though Monroe has moved into a largely administrative job, he doesn't expect to be far from the yard.
"There is a lot of paperwork, but I'm not exactly a paper pusher," he said with a laugh. "There is a lot of work in the office. But I wanted to make sure I could still be used in a capacity where I can evaluate. That's what I want to do."
Monroe's new job is varied. He has a hand in overseeing player evaluation and the running of the Braves' minor leagues. He deals with the organization's instructional league and spends plenty of time keeping current on baseball rules and calendars.
"There are a number of things that involve player development," Monroe said. "We're at the top of the tree as far as minor leagues go."
Monroe hopes to keep climbing that tree.
"I think ultimately I want to get to the very top," he said. "General manager is something I want to pursue. That takes years of learning baseball operations. But that's what I'm in this for. I'd like to be a GM and show that I can run an entire organization.
"This is a career I want to pursue. I love spending time around the field. I go to as many baseball games as I can. I like being around baseball. I like being in dugouts and talking to baseball people. This is what I want to do."