Kansas University's women's basketball seniors are hoping for a grand finale today.
Whatever the outcome of today's 2:05 p.m. Border War with Missouri at Allen Fieldhouse, it'll be more like a three-grand finale.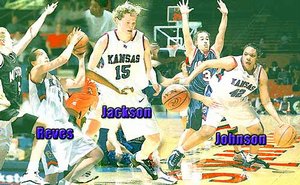 Each of the three seniors Jennifer Jackson, Jaclyn Johnson and Brooke Reves who will be honored during today's Senior Day festivities joined KU's 1,000-point club this season.
"It's hard to put into words what they've done for this program," KU coach Marian Washington said of the senior threesome and fourth-year junior Nikki White, who has decided not to return for her senior year and will be honored with the seniors today. "For three out of their four years, they helped keep us in the national spotlight. It's been a real struggle this year, but they've been responsible for all the success we have had."
Washington, KU's 28th-year coach, has had players score more points and collect more rebounds than the seniors who will play their final home game today. But never before has Washington had three players reach the 1,000-point mark in the same season.
Johnson became the 15th member of the 1,000-point club on Nov. 28. Reves hit 1,000 on Feb. 7, and Jackson joined the pantheon three days later.
"It's unbelievable, really," Washington said. "Each of these classes is special, and all of those players are all really close. I think they understand how special this is."
Most of them actually had an inkling four years ago. Jackson, Johnson and White were key components of the 1997-98 team that advanced to the first NCAA Tournament Sweet 16 in school history.
Jackson started all 32 games as a true freshman. Johnson made 27 starts that season and White, who sat out the following season as a medical red-shirt, made six starts and played in 31 games.
Reves, who played as a freshman at Wichita State, sat out the Sweet 16 season under NCAA transfer rules.
"As freshmen, we were bright-eyed and bushy-tailed," Johnson said. "We just knew how to go out and play hard. It's gone by so fast. It seems like just yesterday we'd go someplace and I had to ask where the court was."
MISSOURI (17-8, 8-6)
F Evan Unrau, 6-1, Fr.F Amanda Lassiter, 6-1, Sr.F Marlena Williams, 6-1, Sr.G Kerensa Barr, 5-10, Soph.G Tracy Franklin, 5-10, Sr.
KANSAS (10-15, 4-10)
F Brooke Reves, 6-0, Sr.F Jaclyn Johnson, 6-1, Sr.G KC Hilgenkamp, 5-10, Jr.G Jennifer Jackson, 5-10, Sr.G Selena Scott, 5-6, Jr.
Tipoff: 2:05 p.m., Allen Fieldhouse.TV replay: 10:30 tonight, cable channel 6
Jackson's biggest problem was dress.
"I remember how concerned we were about teaching her how to dress for the weather around here," Washington said with a laugh. "She was always walking around with her coat open. We were worried to death she'd catch cold."
Jackson, a native Alabaman, finally came to grips with Midwestern winters, but she hasn't yet dared grapple with the thought of playing her final game in Allen Fieldhouse.
"It went a lot faster than I would have liked," she said. "I'd like to play four more years, but there comes a point where you have to move on with your life."
"It's beginning to hit me," added Reves, "but it's something you try to put in the back of your head. I'm sure it will hit me (today) when I give my speech. It's a goodbye, another chapter in your life. You have to turn the page."
The seniors' careers began with a Sweet 16 season and likely will end without so much as an NCAA Tournament appearance.
Entering today's game against Missouri (17-8 overall, 8-6 Big 12), Kansas is 10-15 and 4-10. The Jayhawks would need to win the Big 12 postseason tournament to get into the NCAAs.
"The tournament isn't out of the question yet," Jackson said. "We've shown what we're capable of. We just need to put four games together."
First, though, comes Mizzou. The Tigers boast three double-digit scorers: Amanda Lassiter, a 6-1 senior averaging 20 points per game; Marlena Williams, a 6-1 senior averaging 12.7 ppg; and Tracy Franklin, a 5-10 senior averaging 10.2 ppg.
Today's game will be replayed at 10:30 p.m. on cable channel 6.
The Jayhawks will conclude the regular season on Wednesday at Texas A&M.;
More like this story on KUsports.com