Wednesday, December 5, 2001
So, Mark Mangino, are you a college basketball fan?
"I'm a real big one now," the 45-year-old Mangino said Tuesday after being introduced as Kansas University's 35th football coach. "This is the place to be to watch big-time college basketball."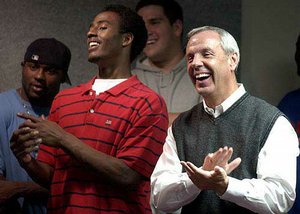 Mangino's statement brought a smile to the face of KU hoops coach Roy Williams, Williams' assistants and several other coaches, KU faculty members and athletes who attended Mangino's introductory press session at Parrott Athletic Center.
Williams raced to the podium to shake hands with Mangino and the new KU football coach's family members after the press conference.
"I think it's a great choice. He's a very impressive person," 14th-year KU coach Williams said of Mangino, who has worked the past three years as an assistant under Bob Stoops at Oklahoma after serving eight seasons under Bill Snyder at Kansas State.
"I happened to have a chance to visit with him on the phone. I like what he said today in the press conference. He has that enthusiasm and appears to have that energy and fire. I think you need that. This is a great, great place to be, but it is a very difficult job."
A close personal friend of former KU football coach Terry Allen, Williams said, "Terry always will be a great friend. That part is not going to change. I think Mark will develop into a great friend as well. I was a huge KU fan when coach (Glen) Mason was here. I was a huge KU fan when Terry was here, and I expect I'll be a huge KU fan now that Mark is here.
"I've missed one home game in 14 years and that was because we had a game in Maui."
Williams is hoping KU, which had stadium and press box/scholarship suites improvements under former AD Bob Frederick and is committing big dollars to football under new AD Al Bohl, will win with Mangino.
"I think we've had a pretty good commitment to football. It's unfortunate we play in such a difficult league and have such a difficult schedule it's hard to win and develop consistency," Williams said.
"I am not a football coach, but I do think this university has had a good commitment to football. I think given the right person in the right spot at the right time, hopefully we'll get lucky and things will go well because it does nothing but help every team at the university. It does nothing but help men's basketball."
Mangino impressed those at his press session by talking about football not being life and death. He said family and faith were the most important things in his life. He also mentioned graduating his players and not running a "boot-camp" disguised as a football program.
"I've heard great things about him, and his enthusiasm for the game and enthusiasm for working in college athletics appears to be exactly what I think we should have in coaching," Williams said. "I'm anxious to get to know him and show him how much support he's going to have from the KU basketball office."
Former KU football coach Don Fambrough, who also attended the press conference, liked what he heard from Mangino.
"It's the first time I've met him, but I followed his career at K-State and Oklahoma," Fambrough said. "Needless to say, he has his work cut out. But I think the facilities are better and we have begun to make the commitment to football we should have done a long time ago. If the administration will continue to follow through with the commitment, provide him with the resources to hire the best staff and keep that staff, I think he is the type of person who can do a great job.
"I understand he is an outstanding recruiter, and that is the most important thing. I'm excited about our future in football. I'm anxious to see who he brings in with him, but I think they hired a good man."
KU men's golf coach Ross Randall agreed.
"I liked what I heard from him," Randall said. "He sounded like a true professional. It's obvious he has a great sense of humor. The turnout at this press conference with so many coaches, faculty and athletes shows that people all around this university want to see him succeed."