Kansas University's Sigma Alpha Epsilon fraternity is about $140,000 behind on its mortgage payments.
But leaders say a strong pledge class this fall should ensure the fraternity won't lose the $3.6 million house it opened in 1998.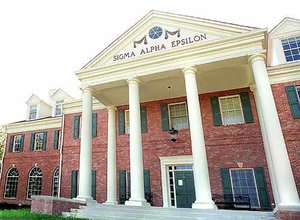 In a letter sent in July to alumni fraternity members, the group's House Corporation Board, a group of about 10 alumni, blamed the missed mortgage payments on lack of money caused by dwindling membership. The fraternity has started recent school years with 60 to 65 members but finished this year with 40 to 55. The house, at 1301 West Campus Road, was built to hold 85 members.
Corporation board members also said some alumni members failed to pay the money pledged during fund-raising for the new house.
"We are writing to notify you again of our dire situation and to ask for any help that can be provided," they wrote.
The board has considered several options. One is selling the house to KU or the KU Endowment Association and leasing it back. Another is leasing the house to one or more fraternities or sororities while SAE strengthens its finances.
The letter said closing the house before the fall semester was an option. But House Corporation Board president Casey Housley said Wednesday that the house would open for the fall, and discussions with the university and endowment association were "on the back burner."
"The house is going to open, as far as we know," he said.
Housley, a Kansas City attorney who graduated from KU in 1992, said the 35 new fall pledges the highest number since the early 1990s should allow SAE to catch up on its mortgage payments. He said board members also are working to restructure the fraternity's mortgage.
"We had to have a good, huge pledge class," he said.
Chris Penney, rush chairman, said membership dwindled in the mid-90s, when the fraternity razed its 80-year-old house to make way for the new house. His freshman class in 1998 had 15 members, and numbers have gradually increased since then, he said.
Penney said he staged an "active recruitment" process this summer to increase numbers "instead of just sitting back and getting guys to come to us." SAE alumni recommended new pledges, and the group conducted rush parties in places such as Chicago, Minnesota and Tulsa, Okla.
Penney said he was worried that rumors of the fraternity's demise would hurt incoming class numbers. One pledge already decided not to join after hearing about the corporation board's letter, he said.
"It's a rebuilding process, and every year it gets better," he said. "We always expected it to be a struggle."
More like this story on KUsports.com