Name the two Kansas University men's sports teams that reached the Sweet 16 this season.
Let's see, basketball and, uh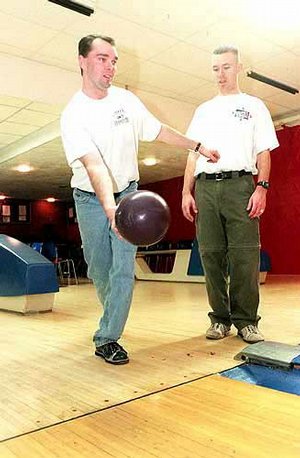 It's bowling.
KU's men's bowling team will leave this morning for Grand Rapids, Mich., where it will compete against the 15 other teams that qualified for the National Intercollegiate championship.
OK, it isn't the NCAA the NCAA doesn't sanction men's bowling but the national tourney features the cream of the nation's collegiate bowling crop.
"We think we have a shot," said Mike Fine, manager of the Jay Bowl and coach of the KU men's and women's teams. "But it's a crap shoot. It'll be physical and a whole lot psychological."
Kansas last reached the national tourney two years ago and finished ninth.
Because it is a club sport, bowling relies heavily on fund-raisers to pay its expenses, mainly for travel, and gifts. Lawrence's Jayhawk Bowling Supply, for example, provides shirts every year.
Enough money was raised that Fine and the six KU bowlers won't have to drive to Grand Rapids and back. They'll take commercial flights.
Seed money comes from a $100 tryout fee.
"We had 27 try out this year, so that was $2,700," Fine said.
Yet the big fund-raiser is called Bowling for Excellence. Each KU bowler goes to friends, relatives and whomever and asks for a per-pin pledge.
"It's an easy fund-raiser," said Jesse James, a sophomore from Lawrence who has the fourth highest average on the team at 204.9. "You can go to people you know. For instance, I know a lot of bowlers at Royal Crest Lanes."
While in high school, James began bowling in the Young American Bowling Alliance program. Mostly, though, he played Legion baseball as a pitcher and a catcher.
"I'd bowl three games a week on Saturday mornings," James said. "Then I joined an adult league to bowl with my father. Now I bowl 75 to 150 games a week. I bowl two to three hours a day every day, although every now and then I'll take a Sunday off."
By the way, James' first name is Elmer. Jesse is his middle name. Both his father and grandfather are also named Elmer Jesse James, and he decided to use the middle name even though it gives him the same name as the famous 19th Century bandit.
"I get asked about it every once in a while," James said. "When I played baseball it was really bad, but I'm used to it now."
James' five teammates (average in parentheses) at the national tournament will be:
Tom Partridge, senior from Olathe (208.4)
Mike Keeler, junior from St. Charles, Mo. (207.65)
Marc D'Errico, freshman from Rochester, N.Y. (206.87)
Scott Light, junior from Andover (202.68)
Eric Topham, graduate student from Derby (198.25).
All 16 teams will roll 32 games today in a Baker format. In other words, one bowler will roll frames 1 and 6, another 2 and 7, another 3 and 8 and so on.
"The Baker games really emphasize team play, and that's our strength," Fine said. "We're really team-oriented. We're the only team, for instance, going to nationals without an All-America nominee."
After today's 32 games, the teams will be seeded and then paired for best four-of-seven matches that will begin on Thursday and continue into the weekend.
"That's why we're allowed to take six bowlers," Fine said. "It's a long day, so we'll alternate in and out, especially if somebody is struggling."
At a time when the Kansas University athletics department has been forced to drop men's swimming and men's tennis for financial reasons, Fine is proud to be part of a sports team standing tall with no scholarships, no academic support services, no training table and no weight room.
"We're an example of how a team can be successful on a shoestring budget," Fine said.
More like this story on KUsports.com