Heading into the third game of his fourth season as Kansas University's football coach, Terry Allen rarely had displayed much of a gambling nature.
But in the week leading up to his 37th game on the KU sidelines, Allen rolled the dice.
While the second half of the parlay won't be known until next week, the first half paid off in the form of a 42-0 whitewashing of NCAA Div. I-AA Southern Illinois on a soggy Saturday evening at Memorial Stadium.
The gamble? Allen looked past the Salukis while cautioning his Jayhawks all week long not to do the same and spent all of last week gearing the Jayhawks for their conference opener against Oklahoma on Saturday in Norman, Okla.
"It was a calculated risk," Allen said after Kansas shook off a slow start to improve to 11-0 all-time against I-AA opponents. "Did I think long about it? Yeah. Could it be scary? Yeah. But it should give us a leg up next week."
Whether it will be enough to stun the Sooners remains to be seen, but it apparently didn't hurt the Jayhawks (2-1) much against outmanned SIU (1-3).
Of course, Allen, who said he never before had slighted one opponent for the next, had the good sense not to mention he was looking past SIU. Just in case.
"He didn't really tell us about it," said birthday boy David Winbush, who collected his first two touchdowns of the season on the same day he turned 21. "He never really gave up the plan, that he was looking past Southern Illinois to Oklahoma, but that's probably good. It would have done something to us mentally. You know how we are."
In their first two games, they had been, well, inconsistent. Allen prefers "fragile" to describe their mind set after erratic offense and occasionally horrid special teams led to one loss and a surprisingly close victory.
Throw in the fact that SIU was playing its first game against an NCAA Div. I-A foe in five seasons and had all that attendant underdog motivation and the elements-as-equalizer factor, and Allen's gamble well could have backfired.
And the Salukis started out playing to Allen's worst fear, namely that SIU would stay close long enough to make a game of it at the end.
Then Kansas scored two touchdowns in 1 minute, 45 seconds at the end of the first half for a 14-0 halftime lead.
Two more quick-strike touchdowns just under two minutes apart at the start of the second half made it 28-zip, and the Salukis tucked tail.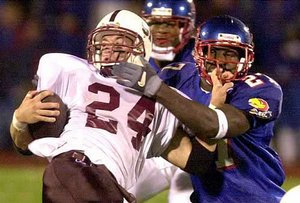 "It was a struggle, but you have to give a lot of credit to Southern," Allen said. "They did a lot of things to keep it close. Fortunately we got possession and the wind in our favor and things kind of snowballed in the second quarter."
Until they did, though, Allen was on edge. Kansas punted away four of its first five possessions unlike its first two games, KU was nearly flawless in punting thanks to a change in the protection that added two yards to punter Joey Pelfanio's drop and lost the fifth on a fumble.
The Jayhawks also benefited when SIU missed a 39-yard field goal that would have given the Salukis the first lead with 6:49 left in the first quarter.
"I thought it was just a matter of time," Allen said, "but we knew if the weather got worse, we could be setting ourselves up for real trouble."
The trouble, though, was all SIU's.
First, Kansas quarterback Dylen Smith hit Roger Ross with a 23-yard touchdown with 3:50 left in the half. After a quick three-and-out SIU possession, Smith followed that up with a 48-yard TD bomb to Termaine Fulton for a 14-0 KU lead at the half.
Two SIU possessions and two KU plays into the second half, it was 28-0. Southern Illinois fumbled away its first series and Moran Norris notched a two-yard touchdown run with 13:27 left in the third.
Then Harrison Hill returned a punt on SIU's next series 42 yards to set up a five-yard Winbush TD run at 11:36.
Winbush added another score with 1:09 left in the third when he caught an 11-yard Smith pass.
Backup QB Zach Dyer completed the scoring with a one-yard touchdown run with 5:58 left in the fourth.
"I knew we were going to put some points on the board," said Smith, who despite a self-proclaimed aversion to and inexperience in playing in the rain completed eight of 17 passes for 112 yards and three touchdowns with no interceptions. "I knew our defense would hold up. All we needed was to start executing, and we did."
Now, about those Sooners
Apparently most of the Jayhawks' preparation last week centered on pass-happy Oklahoma. While Smith said Kansas' offense put in a few extra plays with OU in mind, the biggest game-specific gearing had to be on defense, where Kansas debuted several new defensive packages, including a "dime" to counter the air-it-out Sooners' offense.
"I guess it worked out for us," Smith said. "But if we had lost well, it worked out for us."
Kansas-Oklahoma will kick off at 2 p.m. next Saturday in Norman, Okla.
More like this story on KUsports.com