The last thing Kansas expected when it met Texas Tech for a critical football showdown was a shootout.
But that's just what the Jayhawks got that and a burning slug in the stomach.
Derek Dorris, a Kansas University recruit five years ago as a high school senior who was set to pick KU before Glen Mason bolted for Minnesota, caught a school-record four touchdown passes, and Tech survived KU's furious second-half, down-to-the-wire rally to pull out a wild and woolly 45-39 victory over the Jayhawks on Saturday at Memorial Stadium.
Texas Tech, which boasted the ninth-best defense in the country coming in, and Kansas, which ranked 31st nationally in total yards allowed, combined for nearly 1,000 yards of total offense, 55 first downs and threw 90 combined passes without an interception in an offensive slugfest that lasted 31/2 hours.
Though the loss struck a blow to KU's quest for bowl eligibility the Jayhawks must win two of their next three, starting with back-to-back games at Nebraska and at home against Texas KU coach Terry Allen didn't question KU's ability to come back.
"This team has showed a lot of resilience," Allen said. "If they wanted to quit, they would have quit here today."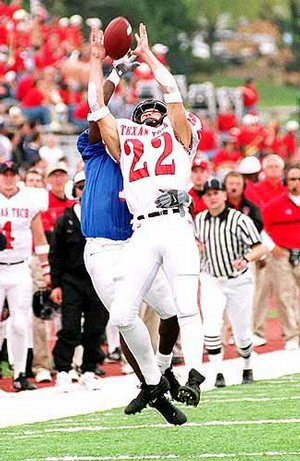 They certainly had plenty of opportunities.
For the first time in three games, Kansas' first possession resulted in a missed field goal, and Allen knew the Jayhawks were in for a bad day.
"That was a bad omen," Allen said. " It was digging out of a hole all day."
Tech (6-3 overall, 2-3 Big 12) scored touchdowns on four of its first five possessions, then boosted its lead to a game-high 21 points, at 35-14, on the first possession of the second half.
But the Jayhawks (4-4, 2-3) chipped away, and Dylen Smith rushed for three second-half touchdowns to pull the Jayhawks within six with 2:02 left.
Tech recovered the onside kick but managed just one first down and lined up for a 44-yard field goal with a half-minute remaining.
KU's Carl Nesmith put a hand on the kick, and Algie Atkinson returned it 25 yards to the KU 40-yard line. Three passes from Smith to Termaine Fulton put Kansas on the Tech 22-yard line, but his pass to Harrison Hill in the end zone as time ran out went just long.
"We played three quarters of really good football and we almost let it slip away," Texas Tech coach Mike Leach said. "We were quite surprised by how they hung in there until the end."
The Jayhawks weren't.
"We didn't play our best today," Nesmith said, "but we didn't give up. That's what I'm proud of. It just shows the type of team we've got. It shows the type of character we've got. But there's not anything to be happy about. We should have won."
It was an odd game.
Among the oddities:
The Jayhawks, who won two straight after declaring a new season after five games, had been winning with defense, but they were shredded by Kliff Kingsbury for 405 passing yards. Kingsbury completed 32 of 48 passes despite being sacked four times.
After allowing just one offensive TD in two games, the Jayhawks' defense surrendered five touchdowns.
KU, which had been struggling a bit offensively, gained a season-high 499 total yards, and Smith, who hadn't completed more than 50 percent of his passes in a game since last November, completed 23 of 40 for a career-best 327 against the top passing defense in the country.
The Jayhawks outrushed the Red Raiders, 172 yards to 80, and had David Winbush go for 120, his first 100-yard game of the season.
A roughing-the-passer penalty cost KU early. Facing a third-and-18 call early in the second half, Kansas' Nate Dwyer and Chaz Murphy appeared to have sacked Kingsbury for a short loss. But Murphy was flagged for roughing the passer for throwing a forearm shiver to Kingsbury's head to keep the drive alive. Allen argued the call with ref Tom Ahlers, who inadvertently turned on his microphone patched into the stadium's loudspeaker so most of the discussion was audible to the 26,000 fans in attendance. Tech scored a TD on that drive for a 14-7 lead.
In another way, though, it was a typical Kansas loss. The Jayhawks' struggling special teams surrendered a 66-yard punt-return TD for the second straight week.
"It's easy in a game like that to talk about a lot of what-ifs," Allen said. "The reality of the situation is, the Jayhawks lost. We hung together, stayed together and lost together."
Now KU must travel to Nebraska to face the Huskers, who suffered their first loss of the season on Saturday.
"This team has been bouncing back all year," Hill said. "We're down, but this team never quits."