Kansas City, Mo — Kansas University football last season was a wagon without a star to which to hitch.
The Jayhawks were so dependent on newcomers at key positions and so in the throes of a transition period between the players from the old regime and the players of the new, they found themselves desperately searching for a marketable standout.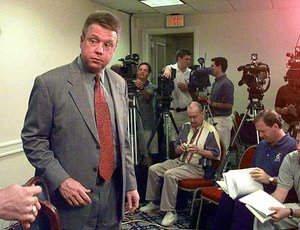 You know, a player to put on the front of the pocket schedule cards, to splash on billboards, to sell tickets and team.
At no time was that more evident than the late-summer Big 12 media days, when KU coach Terry Allen was obligated to take two representative student-athletes to Dallas to address the assembled media.
"Last year it was, 'Who are you going to take?'" Allen reflected Thursday at the 2000 Big 12 football media session at the Marriott Country Club Plaza. "This year, we had a host of guys to choose from."
In fact, Allen could only remember one of last year's participants. Barely.
"I don't know, Winbush?" Allen asked.
Indeed, KU running back David Winbush attended last year, along with soon-to-be-disposed starting QB Zac Wegner.
This year, Allen settled on Carl Nesmith and Moran Norris, the closest things Kansas has had to a household football name in years.
"A year ago at this time, nobody knew who Carl Nesmith was," Allen said. "Nobody knew who Moran Norris was. Last year, nobody knew who we walked in the room with. Everybody knows Carl and Moran.
"In years past, I haven't been able to sit up here with guys who'll have the chance to play after college. Both of these guys have that chance."
They also have a chance to play a vital role in a KU football revival. Nesmith, a senior free safety, is a free-wheeling, hard-hitting safety who was the Jayhawks' only first-team pick to the media's preseason All-Big 12 team. He also was named a preseason All-American by a handful of national publications.
Norris, a soft-spoken yet bruising senior fullback, is the top-ranked player at his position in the preseason NFL Scouting Combine.
And, as Allen says, a year ago, nobody knew their names.
Last summer, Nesmith a 6-foot-3, 215-pounder from Jacksonville, Fla. was struggling to come to terms with his new position.
A quarterback-wideout at Butler County Community College, Nesmith was recruited for his athletic ability and landed at safety only after he arrived at Mount Oread.
"Last year at this time," Nesmith said, "I didn't have a clue."
He struggled with assignments through the first half of the season last year, then keyed a second-half resurgence to end the year with 89 total tackles, All-Big 12 honors and the league's defensive newcomer of the year award.
Nicknamed "The Butcher" by teammate Quincy Roe for his often brutal hits, Nesmith hopes to parlay the moniker into a Saturday spectacle "The Butcher Shop."
"I'd like one particular section of students to come with aprons on and little hats, maybe some fake blood," Nesmith said. "I'd really like something like that. Not too mean, not too nasty not to promote violence, just violent hits, violent tackles."
Allen's not so sure he's a big fan of The Butcher Shop.
"That's news to me," Allen said. "I don't know if I'm excited about aprons and blood knives, but I'm OK with the excitement. That's college football. He'll do some crazy things, but that's Carl. The guys really rally around him."
They rally around Norris, too, for different reasons. For the bulk of his career, Norris a 6-2, 245-pounder from Houston toiled in the anonymity of a fullback whose sole responsibility was blocking. He had seven carries for 20 yards in his first 16 games at KU.
Midway through last season, injuries to other backs forced Norris into a ball-carrier role, and he responded with 537 yards on 107 carries, with eight touchdowns and a five-yard average. More amazingly, he was thrown for a grand total of just 10 yards in losses all of last season.
"We really, truly fell into that," Allen said. "He's a guy that moved around, from linebacker to fullback. The funny thing is, he couldn't catch a cold. Now he doesn't drop a ball. He's got some God-given abilities."
Despite his new-found celebrity, Norris has worked hard this offseason to prove last season was no fluke. In addition to the standard weight-training routine, he catches 100 passes a day in addition to self-imposed footwork drills.
"I've thought about getting more publicity," he said. "I don't want to get cocky or big-headed. And this year I want to learn a few moves. Last year, I just tried to run over people. They'll be expecting me to do that this year. I want to learn some moves, so when they're least expecting it, I can put a move on 'em."
Like Nesmith and his Butcher Shop, Norris has given some thought to how he'd like to be recognized this fall.
"If I have a good run," he said, "I want the crowd to say, 'Moooohhhhh.' I'd like that."
More like this story on KUsports.com