Matt Doherty has come a long way in a short period of time.
The 38-year-old Doherty, an assistant coach at Kansas University just two seasons ago, has vaulted to the position of head coach at the University of North Carolina.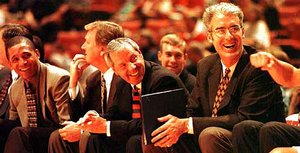 "I felt eventually Matt Doherty would be the basketball coach at North Carolina. Two weeks ago I didn't think it would be this summer," Kansas athletics director Bob Frederick quipped. "If you told me all these things would happen two weeks ago, I'd say you'd be dreaming," Frederick added Tuesday after the first-year Notre Dame coach was introduced as Bill Guthridge's successor in Chapel Hill, N.C.
Doherty, a former player at UNC, emerged as Carolina coach just five days after Kansas head coach Roy Williams declined the offer. Both Williams and Doherty are Carolina grads. Other members of the Carolina "family" Eddie Fogler, George Karl and Larry Brown dropped out of the running after being considered as candidates.
"It's a tremendous opportunity for Matt. I think he'll do a great job," Frederick said. "He recruits well. He will represent the University of North Carolina in a first-class fashion."
Doherty worked as a KU assistant from 1992 to '99, taking over for John MacLeod at Notre Dame last season.
"Matt Doherty will be sensational as the basketball coach at North Carolina," KU coach Williams said. "He has a tremendous passion for coaching and a genuine love for the school.
"All UNC fans will soon realize that the handoff from coach (Dean) Smith to coach (Bill) Guthridge to Matt keeps the program in great hands. This is a great day for North Carolina basketball. I'm extremely excited for Matt but also for the basketball program which I love dearly."
Doherty is a great hire, says Jerod Haase, a member of KU's basketball staff who played for Doherty at KU.
"I am really happy for him. It's awesome an opportunity of a lifetime for a second straight year," Haase said. "I think he's qualified. He's proven he can win and work hard."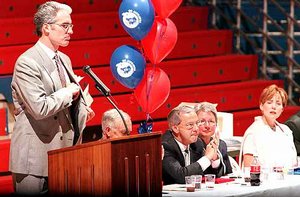 Notre Dame went 22-15 under Doherty last year. The Fighting Irish shocked Ohio State in Doherty's debut as coach in the Preseason NIT and finished the season just as strong, advancing to the NIT finals.
"Basically I think his forte is he works extremely hard," Haase noted. "He'll have a lot of the same traits other great coaches have. I think he will be extremely loyal to North Carolina and outwork the other people. He is energetic, very personable. He will come across real well with recruits."
C.B. McGrath, who played for Doherty four years at KU and also is on KU's current hoops staff, agrees with Haase.
"He is an intense person. He wants to win. He cares a lot for the program he's involved with," McGrath said. "When he was at Kansas he loved Kansas. I'm sure he loved Notre Dame. I'm sure he'll love North Carolina. He is dedicated and driven."
As far as Doherty's personality ... "He definitely had a lighter side too," McGrath said. "Most of the time he felt he needed to get to work and teach and coach.
"Off the court he'd goof around with the guys. On court he was driven. You could tell he'd be successful."
The timing of the North Carolina search helped the youthful Doherty.
"Things sort of fell in his lap, almost," McGrath said. "He's been in the right spot at the right time. That happens to people who work as hard as coach Doherty works."
The timing hurts Notre Dame. He leaves South Bend after just one season. The current summer evaluation period for recruiting started Saturday.
"I'm not surprised he took it after everyone turned it down. I don't think he could have turned that job down," said Sacramento Kings guard Ryan Robertson, who played for Doherty at KU. "I'm a little surprised. Notre Dame is such a good job. I thought with coach Doherty there in the next few years they'd be a power.
"North Carolina is where he went to school. It's where he met his wife. It's not a job he could turn down. It's really bad timing. I think he'd have liked to take it three to four years down the road after he put his time in at Notre Dame and didn't feel he cheated them any. He'll be great there."
More like this story on KUsports.com