Using one of Roy Williams' favorite coaching strategies, Jayhawk fans are putting on a full-court press to encourage their beloved coach to stay in the Sunflower State.
Williams is pondering whether to accept the coaching job at the University of North Carolina at Chapel Hill, his alma mater, or return for a 13th season at Kansas University.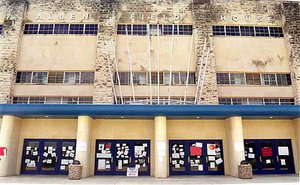 Since Journal-World Sports Editor Chuck Woodling called for a show of fan support in a weekend column, hundreds of cards, letters and signs have been plastered on windows at Allen Fieldhouse and doors at Wagnon Student Athlete Center. The letters and signs profess love and admiration for Williams and plead with him to remain in Lawrence.
"Hopefully it will make a difference if he is wavering," P.J. Mather said. "He has to do what is best for his family, but it would be hard to say goodbye and watch him go."
Mather, 41, Lawrence, and her two children, 11-year-old Kate Mather and 7-year-old Jake Mather, were adding cards Monday afternoon to the Fieldhouse display.
Fans also have clogged Williams' e-mail account with thousands of messages. From Friday to Monday evening, Williams had received about 1,250 e-mails, said KU assistant athletics director Pat Warren.
Monday, as many as 10 e-mails an hour were pouring in to the men's basketball account. The address usually receives about 30 messages a week.
"When you get this kind of volume, it is clear the support and love Kansans have for Roy," Warren said. "They have generally been pretty well written and thoughtful. Obviously, a lot of people want him to stay."
Warren said most of the messages were from Kansans, but a few came from Kansas State University and University of Missouri fans who urged him to stay as well.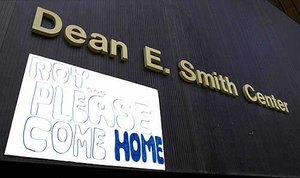 Traffic has been high on the KU Web site, apparently from people hoping to get updates on the Williams watch, Warren said.
Like many others, the Mather children posted hand-drawn cards at the Fieldhouse. The outside of Kate's card read, "KU basketball is on fire" around a fiery basketball. On the inside, the card continued, "because of you Coach Williams."
Jake's read, "Please stay because you are a good coach. You were a good coach the first year, the 12th year and I hope for more years too! We will miss you if you go, your biggest fan, Jake."
Jake said he liked Williams because he calls the team "Roy's boys."
"Jake's been trying to figure out whose boys they would be if he leaves," his mother said.
Other signs read, "God Bless Roy," "It won't be the same without you," "Roy UR #1 with KU, from your beloved Kansas Angel," and "North Carolina has Dean Smith, Kansas needs Roy Williams. Please stay at KU and build your own dynasty."
One sign was titled "Top five reasons Roy should stay." It included, at No. 5, "Nowhere in the country will you find fans that will go to this length to get you to stay there."
Warren said KU officials did not plan to send the printed e-mails, cards, letters and signs to Williams in South Carolina, where he is vacationing this week. Instead, the display will be left for Williams to see when he returns home.
Williams has said he would make his decision no later than Friday.
More like this story on KUsports.com