Chapel Hill, N.C. North Carolina basketball fan Gary Schlegel stood outside a locked Dean E. Smith Center, wondering how any coach could even consider declining an opportunity to coach his beloved Tar Heels.
"This is the center of the basketball universe," said Schlegel, a former LaRoche (Pa.) College point guard, who has followed UNC basketball for more than 25 years.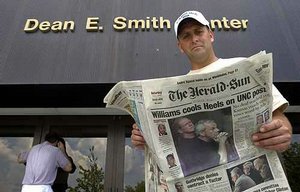 "Look what you have right here in this area Duke, North Carolina State, Wake Forest Chapel Hill!
"I would think anybody would want this job if it's available to him."
It remains to be seen if 12th-year Kansas coach Roy Williams will accept the Tar Heel job. He's at his beach house near Charleston, S.C., deliberating whether he'll succeed UNC's Bill Guthridge. Williams' decision is promised on or before Friday.
Williams was born and reared in Carolina and was an assistant coach for 10 years on legend Dean Smith's staff.
"You've got to realize you live out here, it's two hours to the mountains. It's three hours to the beach. It's a beautiful part of the country," Schlegel said.
Actually, Schlegel, who attended the same Pittsburgh high school as former UNC player and current Milwaukee Bucks coach George Karl, visited Chapel Hill for the first time on Saturday.
He drove his wife, four children and some family friends four hours out of the way on a return drive from Carolina's Outer Banks to Pennsylvania.
"I've always wanted to see the Dean Dome. I just wish we could get in. I've got the kids checking all the exits," Schlegel said.
Schlegel said he'd love for Williams or Karl to take over for Guthridge, but he didn't have a strong preference.
"I think Roy would be a good candidate. What about Phil Ford (UNC assistant)? He's in-house," Schlegel said.
Continuing the legacy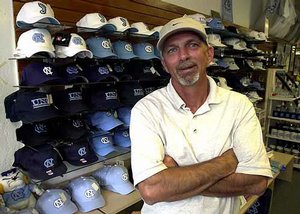 Carolina graduate John Hudson, who owns the store "Carolina Pride Sportswear" here, said he's heard many fans call for Williams' hiring.
"You could say if they hire coach Williams it would not be the worst public relations thing that's ever happened here," Hudson said. "A lot of people like him. A lot like Karl and Larry Brown. Actually I've heard Rick Pitino (Celtics coach) mentioned. Some people have said, 'Let's hire Krzyzewski (Mike, Duke coach),'" he joked.
"I do think whoever they hire should get down and kiss coach Guthridge's feet for taking all the pressure off."
Guthridge, who led Carolina to two Final Fours in his three years as UNC coach, served as a buffer between legend Smith and the next coach.
"Coming in after coach Smith, what a fantastic job he did," Hudson said.
"Nobody was a better fit for North Carolina than Dean Smith, and there was no better fit than Bill Guthridge. I think we should all thank him and hope he enjoys his retirement."
Keep it in the family
Recent North Carolina graduate Tony Pough, a former member of the Heels' track team, says the legacy of Smith and Guthridge should continue with the new coach. He wants the next Carolina coach to be a Smith disciple.
"Yes, I hope it's Roy Williams. I have to be honest," Pough said. "He has such an extensive history here. He was here 10 years as an assistant. They feel it's important to keep it in the Carolina family. I hope it is him. If not, I do not want Rick Pitino. The feel of Carolina tradition would never be the same."
Pitino has no Carolina ties. In addition to his NBA experience, Pitino has been the head coach at Kentucky and Providence College.
Pough has a gut feeling Williams is the man for the job at UNC.
"Roy has a great situation at Kansas," Pough said. "He's basically built that school into his own family and tradition. I would not at all be surprised if he decides to stay. He loves his own players.
"He has already established Kansas as one of the most prestigious programs. It wouldn't shock me at all if he stayed, but at the same time, his daughter is a student here. He's from here. I do hope he comes here."
Easy come, easy go
Well-dressed Georgia Tech graduate Mike Garrett is not a big Williams fan.
"Kansas needs something different. I think (Williams leaving) will be good for Kansas," Garrett said moments after exiting a church on Franklin Street where he attended his cousin's wedding.
"I am not a fervent Kansas follower. I just think something has gone wrong there. You pick Kansas in your NCAA bracket and you just know they are going to lose. They'll kill your bracket."
"I think it's a bad hire, but he's from the North Carolina family and they kind of enjoy that."
As far as sentiment for Williams, a Carolina fan Web site has Williams attracting about 70 percent of the vote, easily outdistancing Karl as fans' choice to succeed Guthridge.
Here in muggy Chapel Hill, there are no visible signs downtown or at the Dean Dome calling for athletics director Dick Baddour to hire Williams. There's no outward sign in the community that a basketball coach is needed at this tradition-rich school.
"I am totally clueless as to what will happen," business owner Hudson said. "It's not like Dick is gonna call up and say, 'John, what's your opinion? Who should I hire?'''
Most folks here speculate Williams will make his decision midweek, perhaps Wednesday.
"I think it's going to be that one candidate I heard on the radio," said UNC senior Tunisia Harrison.
Williams?
"Yes, that's the name," she said with a smile.
More like this story on KUsports.com