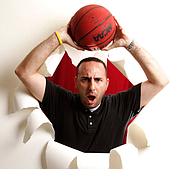 Here's the transcript from today's Gameday Chat with KUsports.com basketball beat writer Matt Tait, who talked KU-Long Beach State ahead of Tuesday's 7 p.m. game at Allen Fieldhouse.
This chat has already taken place. Read the transcript below.
Moderator
Good afternoon KU fans and welcome to another Gameday Chat with Matt Tait. The Jayhawks are 5-1 heading into tonight's 7 p.m. tip-off with Long Beach State, which enters at 1-7 overall but having played one of the most difficult schedules in the history of mankind.
We've got some good questions today and not a ton of time, so let's jump right in with one about free throw shooting...
Thanks for the constant coverage Tait. It seems the last couple of years, KU has struggled from the free throw line with bigs and guards. 60% isn't really anything to brag about and I feel like we can really stretch leads the same way other teams make a game close against us with our continuous foul trouble (If you look back at our losses over the last couple of years, teams are usually shooting better from the line than we are). Are we seeing Self drifting away from the importance of FT's or are individuals not spending enough time in and out of practice shooting them?
November 29, 2016at 10:04 a.m.
Matt Tait
It's definitely not a case of Self not putting any importance on free throw shooting. There's no doubt that he knows it's important and wants his teams to shoot a high percentage. A high percentage these days, however, is in the 70s and even though KU has work to do to get there, I believe they will.
Self's not one to over-emphasize something that he can't really affect. And free throw shooting is a prime example of that. He could spend hours practicing free throws in the gym and incorporate punishments for sub-par performances, but free throw shooting is still going to come down to a mental game between the player shooting and the shot itself.
Throughout the years, when KU has struggled in this area, Self often has left it up to the players themselves to get into the gym, get some extra shots up and work out the mental block on their own. Him standing there over their shoulder while they shoot them isn't going to have any kind of positive or negative impact because he won't be there when they're shooting them in games.
Mason, Lucas, Bragg, Graham, Svi... Those guys are all too good of shooters and too tough of competitors for this team to struggle from the free throw line. I think what you're seeing early on is directly connected to some of the other struggles a couple of those guys and Josh Jackson, in the early going with his foul issues, have had so far.
November 29, 2016at 2:04 p.m.
Due to the match-ups i.e., LBSU starting two 6'7" forwards, Bill is once again going with a 4 guard line-up with Vick at the 4. My question is why have we not seen Svi in that starting spot, and will we in the future.
November 29, 2016at 1:58 p.m.
Matt Tait
I like this question and have wondered that myself, but I think the reason has two parts to it...
1. Vick is so good on the glass and that's the area where Lucas and Bragg have struggled most, so it's simply a case of Self trying to improve an area of weakness first and foremost.
2. Svi is a much better ball-handler than Vick and therefore keeping him on the bench to start games makes him available if early foul trouble were to hit Graham or Mason or if either of them needed a break for whatever other reason.
Because of their size and similar position, many think that Svi and Vick are interchangeable. But if you look at it a little deeper they really are pretty different players.
November 29, 2016at 2:07 p.m.
are you surprised Udoka does not travel even more than he does?
usually big guys come to KU and always love to shuffle their feet
November 29, 2016at 11:47 a.m.
Matt Tait
Interesting question. I'll be honest, I haven't really thought much about this.
A quick check of the season stats to date shows Azubuike with 9 turnovers. I'd be willing to bet more than half of those are travels. I seem to recall a handful of times when he got ahead of himself a little bit and walked while trying to make a post move.
Nine's not bad — especially for a player that big and that raw — but I think you'll only see him improve in that area as the season goes along.
Self has talked for months about Azubuike's great athleticism and footwork and, if nothing else, his ability to be light on his feet at 7-feet, 280 pounds (both in terms of the way he moves and in getting off the ground for that second jump) probably has been the biggest reason he's been able to avoid an obscene amount of traveling violations.
It'll be interesting to see if this question/explanation jinxes him tonight.
November 29, 2016at 2:11 p.m.
Moderator
Let's take a Twitter question from Frank Saunders (@flsku) who asks, "Looks like on 11/29 we are down to a rotation of 9. Does that stabilize for the remainder of the season?"

November 29, 2016at 2:13 p.m.
Matt Tait
I saw this question come through and I've gotta give it up to Frank here for making his Twitter name Frank L Saunders III — Maybe he really is the 3rd but my guess is the moniker is a shout-out to Frank Mason III since the two share the same first name...
Anyway, I think the rotation probably is set and, if anything, will trim to eight by mid-January. Self's never been one to enjoy playing too many guys and he also has never been afraid to ask his front-line guys to play big minutes.
As long as they stay healthy, everyone in this team's Top 8 will be able to do that. That's what Boot Camp's for and why Andrea Hudy trains and works them so hard in the offseason.
Dwight Coleby's in there at No. 9 ahead of Mitch Lightfoot right now, but Lightfoot started in the lead and the only reason either one of them has received any real playing time so far is because of the struggles of Lucas and Bragg. If those two climb out of their funks to the point where they're able to play in the high-20s/low-30s, there just won't be room for a ninth player in the rotation because you know Graham, Mason, Svi, Vick and Jackson are going to get their minutes — often four together — as well.
As the season goes on and Big 12 play creeps closer, if Lucas and Bragg continue to struggle, I think Self will be much more likely to put extra emphasis on playing four guards than he would be to get Coleby or Lightfoot into the regular rotation.
November 29, 2016at 2:18 p.m.
Matt,
Thanks for all of your hard-work and for doing the Gameday Chat! It's always cool to check it out. My questions is:
What does Landen need to do different in order to get back on track? It seems as is he goes into games already counting himself out, instead of going in ready to play free and have fun. Any thoughts/ideas?
November 29, 2016at 11:05 a.m.
Matt Tait
Thanks, Caden. I appreciate the kind words and am glad you enjoy the coverage. You, too, jzutterman!
As for your question, I think you nailed it. Lucas does not appear to be having any fun right now. I suppose it's easy to say, 'Who could blame him?' But he is a senior in college, playing (and until recently starting) for the No. 4 ranked team in the country with a group of incredibly talented players and for one of the best coaches of all time. That sounds like fun to me, but Lucas sure isn't showing it.
I think the biggest issue here is that he (and others) built up his expectations for his senior season far bigger than they needed to be. Lucas was a monster down the stretch last season and a huge part of the reason KU had a real shot to win it all. And he was such without doing anything fancy or playing outside of his capabilities.
It's only natural to want to improve and when you throw in the fact that it's his senior year, his last go 'round, I think it's easy to see how that happened.
What needs to happen now, though, is Lucas needs to let it all go. Forget about the expectations, the goals, the struggles, the whistles, the frustration and just get back to playing basketball. The guy has talent, he's incredibly intelligent and there's still plenty of time for him to become a major part of this team. But he has to remember that being a major part of this team might not mean being a major star on this team.
Self and Lucas' teammates believe the funk is just temporary. I'm not so sure. But I can be sure that if he finds a way to start having fun on the floor again, they'll be right.
This team's pretty darn good right now without Lucas and Bragg doing much. If those two can round into form and deliver what people thought they would, this team becomes a beast in a hurry.

November 29, 2016at 2:33 p.m.
HI Matt!
Only a few games in but Josh Jackson is off to a great start. It got me thinking about past highly rated recruits that struggled in their time at KU (Selby, Alexander, Diallo) and wondering if you had any opinion as to why some with that level of hype don't live up to their ranking. Do you think it's a result of Self's system, personality of the player, or a player being overvalued by recruiting websites/ unrealistic expectations from fans?
November 29, 2016at 10:56 a.m.
Matt Tait
In a word, yes.
I think all of those things you mentioned have played a part in some of the past one-and-done guys not living up to the hype.
Another, though, that you didn't mention, is opportunity. That's not to say those guys did not get the chance to earn their minutes because they all did. But when given that chance, they did not always grasp it the way they needed to and because Self had other options at their positions, the opportunity for them to get and stay on the floor became smaller.
With Jackson, there's no denying that he has the right personality, fits Self's system perfectly and, obviously, seems to be living up to the hype he came in with. But he's also been given a terrific opportunity. Not only was the starting spot previously held by Wayne Selden available, but now the Jayhawks also have needed Jackson in the lineup at the 4 position, where he can use his length and athleticism to create some mismatches for teams on both ends. That merely doubled his opportunity and made him a pretty valuable player pretty quickly.
Things didn't work out that way for Selby, Alexander and Diallo (and each of those three also had off-the-court issues they dealt with), which only added to their difficulty finding and filling their role for a very demanding head coach.
You're right. It is early. But I think Jackson has turned the corner and is only going to get better and better from here. He'll have an off night or two down the road. Every player does. But he seems to have figured out how to stay on the floor, how to attack the basket and how this team wants and needs him to play.
Should be a fun 30 or so games to watch now that he's figured it out.
November 29, 2016at 2:40 p.m.
KU Twitter has seemed pretty stale vs the years past. Which twitter handles do you really enjoy?
November 29, 2016at 11:47 a.m.
Matt Tait
That's a good question and, you're right, it is a little down right now. There are no FakeJeffWitheys or FakeJoeDooleys dominating the scene like those two accounts once did.
There are some parody accounts out there that give me a chuckle but, for the most part, I like to read the ones from real people talking real things and I'm always amazed how many KU fans offer real good insight into what's going on with their team.
Sometimes that makes things difficult because I'll see a Tweet that is awfully close to a blog I'm working on and the last thing I want people to think is that I'm ripping off their ideas. But it's not rocket science nor is it the CIA. The stats and issues and facts and figures are out there for all of us to digest and read and interpret however we like and that definitely makes it interesting.
So I don't delay things by scrolling through Twitter looking for some of the best accounts, I'll leave my answer at that. I really am impressed by how many good fan accounts there are out there and think it's cool that people like to follow their team so closely and with so much passion.
As you probably know, I'm a big time Denver Broncos fan (and, yes, that game the other night still stings, but what a wild game it was) but even I don't spend my time Tweeting about stats and trends and big news with the Broncos. Maybe that's because covering KU keeps me plenty busy. Or maybe it's because I've heard plenty from KU fans over the years who don't want to hear my Broncos thoughts. Either way, I have a lot of respect for the fans who get into it to that level, whether they're right or wrong, mad or glad, ripping or praising.
The #KUbball search does a great job of delivering all of that info to one place so I don't always pay attention to the accounts themselves.
November 29, 2016at 2:47 p.m.
Moderator
Good stuff today, guys. Thanks again for all of your questions and, as always, if we didn't get to yours, today, please come back again next time. We really do want to get these chats roaring and keep them hopping throughout the season.
Right now, we'll let Matt grab some lunch and get ready for his radio spot with Nick Schwerdt on 1320 KLWN at 3:30. If you're in the area or wanna find it online, give it a listen.
Thanks again for the great questions and enjoy tonight's game.
November 29, 2016at 2:49 p.m.