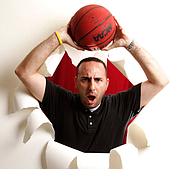 Check out the transcript of today's Gameday Chat with Matt Tait ahead of KU's opening game in the CBE Classic at Sprint Center.
This chat has already taken place. Read the transcript below.
Moderator
Good afternoon KU basketball fans... It's yet another KU basketball game day as the Jayhawks take on UAB tonight at 8:30 p.m. at Sprint Center. That means Matt Tait's here for a little KU basketball chat to help get you squared away on tonight's game and to kill the time before tip-off. We've got some good questions today so let's get right to it.
Three games into the season and Coach Self has already said Devonte and Frank looked tired against Siena. They've averaged 37 minutes a game. Is it too early to worry about this? I know the schedule has been tough both from the standpoint of competition and travel. With back-to-back games tonight and tomorrow, when will these guys get a break? Is there an ideal amount of minutes for them going forward?
November 21, 2016at 12:57 p.m.
Matt Tait
Great first question... I think Self's mention of these guys being tired was almost purely tied to the crazy travel schedule, as you mentioned. They're in great shape and should be able to handle 2-3 games per week pretty easily. But throw in the time zone change, the distance and all of the other things that went into games in Hawaii to New York in 4 days and it's easy to see how anyone would get worn down. Heck, I'm worn down and I didn't even play a minute.
As for your question about when they'll get a break, I think the ideal thing here is that KU will win a couple of these next games by a comfortable margin so that Graham, Mason and whoever else needs it can play 30 minutes or less and get that break.
That nearly happened against Siena, when KU won by 21, but it was a 5-point game with just under 8 minutes to play and Self could not afford to take them off the floor.
Until KU's depth develops to the point where Vick and Svi and Jackson can be trusted to run the show, Mason and Graham are going to be mid-30s guys. And they might continue to be that even if that depth develops.
The key thing here will be getting to Dec. 11 (the day after their home game against Nebraska). From that point on, the Jayhawks will have just three games in a 23-day stretch and that should be a good time to get rested up in time for the Big 12 portion of the schedule.
November 21, 2016at 2:11 p.m.
Do you believe Carlton Bragg is officially out of his "funk" from the preseason?
November 21, 2016at 9:56 a.m.
Matt Tait
I do. Especially offensively. He looks aggressive, under control and confident and he did not look any of those things in the two exhibition games.
I'm sure some people thought calling it a funk after a couple of exhibition games was a bit of an overreaction, but this is Kansas basketball and people react and/or overreact to just about everything that happens on and off the floor.
Bragg has said all of the right things during the early portion of this season, talking about focusing on rebounding and playing hard and not worrying about the rest. Of late, though, he's started to back those words up with his play and it has had a positive impact on the KU lineup.
Defensively, Bragg still has a ways to go. And it could take some time for him to get there. Until he's fully comfortable being a more physical presence — on the glass and as a defender — his improvement on the defensive end might take a little longer.
But Bragg's mind is in a good spot and if he continues to play with his focus on grinding and doing the little things to help this team win, his individual game should come along with it.
November 21, 2016at 2:16 p.m.
Moderator
Twitter question... We got a few of those today and even had a few emails. First up: "Fans feeling good, but shouldn't we be concerned about missed FT's, perimeter D and Josh's propensity for dumb PF's?"
November 21, 2016at 2:20 p.m.
Matt Tait
These are things that plague teams in the early going just about every season and I think the biggest thing to watch for is if/how KU improves on these things week to week.
Of the ones you mentioned, I think they should be ranked like this in terms of biggest concern to smallest: 1. Perimeter D, 2. Missed FTs, 3 Josh Jackson's dumb fouls.
It's just a matter of time before Jackson figures out how to play without fouling and fully adjusts to college basketball. Besides that, the officials also will adjust to the new rules emphasis and the games should begin to develop a little better flow and rhythm.
Free throws are a mental thing and something you can't overly worry about, and the perimeter D thing is going to be one of the biggest keys to this season for Kansas. Coach Self and several players have talked about how good this team can be defensively, with all that length and quickness on the perimeter. But through three games they haven't been great there, both giving up too many drives to the rim and too many open looks from three-point range.
I can't remember a KU season in which the Jayhawks did not show terrific improvement defensively from Week 1 to Week 10. Self demands it and his teams rarely win big without it. So that'll be the most interesting of those three things to keep an eye on as KU develops its identity and grows as a team.
November 21, 2016at 2:29 p.m.
A little off topic, what do you think are KU's chances with Trae Young now after news of Quade Green deciding to go to Kentucky?
November 21, 2016at 8:40 a.m.
Matt Tait
Not to worry. As much as these Gameday Chats are on gamedays and can focus on the upcoming contest, they certainly don't have to. And even though the season has started does not mean that recruiting's still not a HUGE deal.
KU landed a big time player in Billy Preston to the other day and that helped the 2017 class in a big way. Self said he was thrilled to get Preston and added that, next to Joel Embiid, he might be as talented of a big man, coming in, as KU has signed.
So that takes care of most of KU's front court needs and now the focus is squarely on the point guard position. With Mason and Graham both potentially leaving, KU's need for a point guard is enormous. Vick, Newman and 2017 signee Marcus Garrett are nice players, but none of them are true point guards.
Trae Young is and KU is doing everything in its power to get him. His visit was amazing and his family was blown away. KU is very much in a great position here and I think they were even before Green committed to Kentucky.
With Calipari, you never know what's going to happen late, so now that he has landed his PG, the need on his end is certainly smaller and that should help Kansas stand out in their pursuit of Young.
That said, I was told recently that Young was never headed to Kentucky and that it was likely always down to Kansas and Oklahoma, at least after the visits.
Kansas is the blueblood school that can win big and bring some serious spotlight to Young's game. Oklahoma's the local school that would no doubt make mom and dad happy. But can the Sooners deliver what Bill Self and Kansas can?
That's the question Young has to answer. But I think KU's in great shape for him. Don't hold your breath for an announcement any time soon, though. Young has said all along that he'll sign in the spring and his decision might not even come until January.
Preston has said very publicly that he's going to do what he can to help entice Young and/or Trevon Duval (Rivals.com's No. 3 overall player in the class) and you certainly have to like that if you're a Jayhawk.
November 21, 2016at 2:40 p.m.
What time does the game start? Will it be on TV?
November 21, 2016at 2:30 p.m.
Matt Tait
8:30 p.m. central time, though, like the Hawaii and New York games, it's the second of a double-header so it could tip off a little later than the scheduled start time.
Those games started at 8:54 p.m. and 8:48 p.m. but I think this one will be closer to 8:30 if it doesn't start on time.
As for television, the next two games provide a little break for those fans who can't get the Jayhawk Network games. Tonight's game will be on ESPN2.
November 21, 2016at 2:43 p.m.
Moderator
Let's go with a couple more questions...
November 21, 2016at 2:45 p.m.
What's the word on Kelsie Payne's injury and recovery?
November 21, 2016at 12:56 p.m.
Matt Tait
Not basketball-related, but certainly important for Kansas.
Payne, KU's All-American outside hitter who helped lead the KU volleyball team to the Final Four last season and the Big 12 title this season, injured her ankle recently and missed last weekend's conference-title clinching victory over Iowa State.
Her status for the regular season finale at Baylor remains up in the air, but if I were betting I'd bet she rests. Now that KU (a) has proven it can win without her and (b) has clinched the Big 12 title, the only thing that matters from here is the postseason.
With no Big 12 tournament, that means the NCAA Tournament, which begins Dec. 1 and most likely will start in Lawrence with KU hosting once again.
Giving Payne the week off would give her nearly three weeks of rest to get ready for KU's first- and second-round games and whatever comes beyond that.
Knowing her, she'll be ready.
November 21, 2016at 2:48 p.m.
If you had to guess right now, how many of Svi, Carlton and Devonte will be back next season?
November 21, 2016at 2:46 p.m.
Matt Tait
Great question. And the answer is likely to change a little as the season goes on, perhaps a couple of times.
Most people have been operating with the assumption that all three will be gone. Heck, even Self has talked about needing to possibly sign 5 or 6 guys in the 2016 class, so you know there's at least a chance that they'll all be gone when he's talking like that.
That said, I'm going to say one of those three will be back. You didn't ask which one and I'm glad you didn't because I'm not sure I'd have an answer for that. But I have a hunch that at least one will be back and if I had to slap a percentage wheel on it, it would look something like this...
Graham returns
1. No - 70%
2. Yes - 30%
Svi returns
1. No - 64%
2. Yes - 36%
Bragg returns
1. Yes - 51%
2. No - 49%
So much of the answer here depends on how these guys develop — at least Bragg and Svi — and in a few weeks and we should have a much better idea of what kinds of seasons these guys are in for and what that might mean to scouts.
That said, I'm fairly confident in saying that if all three just decide they want to leave no matter what, they all could go with no problem, joining Mason, Lucas and Jackson and leaving Self in need of that 5- or 6-man class he's talked about needing.
November 21, 2016at 2:55 p.m.
Coach Self always talks about how Dok has great touch, but every time I see him with the ball around the basket it looks like he has no idea how to get it in the hoop without flushing it. Not to mention a pretty awkward free throw stroke. What am I missing here?
November 21, 2016at 2:51 p.m.
Matt Tait
This summer, during those camp scrimmages, I saw exactly what Self was talking about with Azubuike, who showed soft hands, excellent touch and good footwork each time out.
Those were scrimmages, against teammates, against next to no real size on the opposing team. Since the season began, Udoka has been forced to confront the opposite of all those things — real NCAA games, against ruthless competitors, some which have had some pretty good size to battle KU's big man.
That takes some getting used to and can make even a rather skilled player look a little out of sorts during his freshman season. I think that's all that's happening here and I think that's why most people continue to point to January as the time when Azubuike will turn the corner.
November 21, 2016at 2:59 p.m.
Moderator
Good one to end on. Let's see how Azubuike does tonight. He was great against Duke and non-existent against Siena, showing that he still has some work to do before he becomes the consistent force KU hopes he will be.
Thanks for joining today's chat and, as always, if we didn't get to your question today, please come back for the next one. We'll try to go again tomorrow, as the Jayhawks will play Tuesday night against the winner or loser of tonight's Georgia-George Washington game.
Tonight, we'll have the full crew over in KC to bring you our regular coverage of the KU-UAB game from Sprint Center, scheduled for an 8:30 p.m. tip.
Have a great afternoon, everyone.
November 21, 2016at 3:02 p.m.