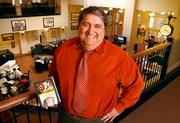 Have a question about the national championship game between Kansas and Kentucky on Monday night? Then Tom Keegan is your guy. Tom will be taking questions from 1-2 p.m. on Monday.
This chat has already taken place. Read the transcript below.
Moderator
Thanks for joining us for today's chat, where we're joined by Journal-World sports editor Tom Keegan. Tom, you ready for the questions?
Tom Keegan
Absolutely. Anything to pass the seven hours before tipoff. It'll be a long seven hours.
April 2, 2012at 1:05 p.m.
What match up on the court benefits KU the most or they can take the most advantage of?
April 1, 2012at 9:35 p.m.
Tom Keegan
I think Tyshawn Taylor can blow by Marquis Teague, which will force the Kentucky defense to collapse. Terrence Jones will have a tough time with Thomas Robinson, but Jones will have Anthony Davis helping out.
April 2, 2012at 1:08 p.m.
Calipari is getting a fair amount if praise fir his "coaching." While I agree it is impressive to get that many egos to buy into his system, is he really that good of an X's and O's guy? Seems like he relies heavily on talent + dribble-drive. If It comes down to coaching, does KU have an edge?
April 1, 2012at 11:14 p.m.
Tom Keegan
I think both coaches are great X's and O's guys and great at getting their players to do what they want them to do. So I think in-game coaching advantages can be overblown, especially when you're talking about two guys who win 30-plus games every year. I do think more pressure will be on Calipari because he's coaching the favorite and because he never has won one. Calipari is more likely to be uptight in a way that makes his players tense. Intense is good. Tense is bad.
April 2, 2012at 1:12 p.m.
Did Ben McLemore and Jamari Traylor get to travel with the team, participate in practices, and other activities during final 4 week?
April 1, 2012at 7:24 p.m.
Tom Keegan
Yes, they did. They're going to be so far ahead of where most freshmen are. They're in tune with Bill Self's expectations. They've been playing against good competition every day in practice since the first semester ended. They also deserve a little credit for helping KU get her for making it tough on the starters every day in practice.
April 2, 2012at 1:16 p.m.
Officiating is part of the basketball game: Let the boys play, or make basketball a non-contact sport. Which one of these tendencies will favor KU tonight in the championship game.
April 2, 2012at 6:53 a.m.
Tom Keegan
They're going to let them play, which the favors the millions watching the game. No matter calls are made, Kentucky supporters only will notice the ones that go against the Wildcats. Kansas fans only will notice the ones that go against the Jayhawks. That's the way it is, always has been and always will be.
April 2, 2012at 1:19 p.m.
Tom, had KU pulled off the W tonight, would that possibly leave the university in another battle fighting to keep coach Self? if so, do you think KU should come up with another improved contract for him?
April 2, 2012at 12:21 p.m.
Tom Keegan
I think Self loves it at KU and if he wins a second national title in five years, that would make him more love it all the more. Think about it: If Self can win a national title with a team that had one starter coming back in Tyshawn Taylor, one guy who averaged as many as 15 minutes a game, one guy who scored a point in the Elite Eight game against Virginia Commonwealth, one guy who had played more minutes in a KU uniform than the rest of the roster combined, don't you think his chances of winning more of them would be pretty good. I don't see Self going to the NBA until he's closer to retirement age. When he retires, he'll retire to the golf course. For a guy who hardly plays, he can punish the golf ball. The one time I played with him it was at Lawrence Country Club. The 12th hole is 500 yards straight up hill. He missed a big-breaking, down-hill, 3-footer and settled for a tap-in birdie. That's right, he was on in 2. I wonder if he had any Masters tips for Gary Woodland last night when they got together?
April 2, 2012at 1:26 p.m.
Considering this is the last game of the season regardless whether or not Kansas wins/loses today I do have a couple of questions I would like to ask followed by one statement:
1) Tom, Jesse, Nick, Matt, and entire LJW staff, congrats on another terrific season and I want to thank you all for giving us the best coverage for our beloved Jayhawks. You guys truly are the best and I appreciate how much hard work you all put in in order to make kusports.com the best site out there.
2) Who do you guys believe are leading candidates for the assistant coaching vacancies? Who would you guys like to see added to the staff?
3) Give us your true feelings on Jeff Withey's blocks pace in this NCAA Tournament? Jeff Withey currently has 27 blocks for the entire NCAA Tournament (5 games) and is 2 blocks behind Noah for the all-time record? What is your over/under prediction for tonight in blocks for Withey? Do you think Anthony Davis will catch Withey who currently has 23?
Thanks for a fantastic year LJW
BigManU (Chris Shaw)

April 1, 2012at 8:27 p.m.
Tom Keegan
1. Thanks, I appreciate it. Andrew Hartsock, Chris Cottrell Nick Gerik, Mike Yoder and the guys you mentioned have incredible energy and talent.
2. I would like to see somebody who's a great recruiter and has a history of working with big men. Self will have a wide array of talent from which to choose because he has a reputation as a good guy to work for and the candidates know coming to KU means a good shot at experiencing the Final Four and eventually vaulting to a good head-coaching job somewhere. As far as specific names, Self knows the field better than I do, obviously, so I'm sure he'll pick a good one.
3. I would think Withey will break it and stay ahead of Davis. Both guys would settle for not breaking it and hoisting the trophy.
Thanks, Chris.
April 2, 2012at 1:33 p.m.
Of all the motivators for the Jayhawks to win this championship, which one means the most to the team? Is it the Seniors' last go-around, Thomas playing for his mother and/or sister, the team playing for Danny and Barry, or is it simply that they want to win it all?
April 2, 2012at 8:21 a.m.
Tom Keegan
All athletes are motivated by the same thing: Winning. Whether it's one-on-one, three-on-three, intramural basketball, you want the satisfaction of knowing you figured out a way to be better than the opponent.
April 2, 2012at 1:35 p.m.
Tom--
I've seen some talk on the Twitters about whether a victory tonight would give the Jayhawks the best run over the last 10-years of ANY U.S. sports program in any sport over the past decade. So, from 2002-2012, KU's run is better than anyone else's. Or so they say. What do you think? Better than the Yankees, the Cardinals, Carolina or the Patriots?

April 2, 2012at 1:16 p.m.
Tom Keegan
I used to think decades went from 1 to 10, but since moving to Lawrence, I have come to realize that calendars are tailored to meet the needs of those trying to prove that KU basketball is the center of the universe, even if that means counting an 11-year run (2002-2012) as a decade and starting it a year into the decade. So since we'll use an 11-year run, I'd have to throw the Lakers (three championships, five appearances in the NBA Finals) into the discussion. But if KU wins tonight, you have to put the 'Hawks at the top of the college basketball world. Billy Donovan's Florida Gators won back-to-back titles, but his team isn't among the top two seeds year in and year out the way Self's is. UConn, when it doesn't win it all, can have down years. Kansas brings it every year. Say hello to the rest of the Twin Cities KU fans.
April 2, 2012at 1:42 p.m.
Tom, we all know T-Rob will end up as a top five NBA pick. With the performance other Jayhawks have out in the run to the title game, who else in this KU team do you think will have a realistic shot being drafted too? Taylor looks a likely end-of-first round or early-second-round pick. How about Johnson and Jeff? Have their games lately impressed various NBA scouts enough that could lead to both juniors leaving KU in the coming months? Thanks.
April 2, 2012at 12:16 p.m.
Tom Keegan
If Robinson's not top five, he'll be right after that, anywhere from three to seven. I agree that Taylor probably will go late first round, even though he's 0 for 20 shooting threes in the tournament. He's one of the quickest basketball players on the planet and scouts know he's a better shooter than he's shown. NBA games aren't played in domes. I think Jeff Withey and Elijah Johnson would be making mistakes if they came out after this year. Another year at KU would enable Withey to show what he could do when he's the focal point of the offense, would enable him to fill out more, and would result in him getting draft much higher. A year of accurate three-point shooting and running the team would turn Johnson into an All-American candidate. His chances of a long NBA career would be better with one more year at KU.
April 2, 2012at 1:48 p.m.
Moderator
Time for a few more ...
April 2, 2012at 1:48 p.m.
Is having New Orleans as the site of the Final Four a good or not-so-good thing for the "average fan"? On one hand, I can clearly see how the experience of the city is incredible. On the other hand, there are some really awful and expensive seats in the Superdome. Thoughts?
April 2, 2012at 11:40 a.m.
Tom Keegan
I thought San Antonio was a better venue. I watched the NCAA Final Four in 2003 in New Orleans after having purchased a Division I coach's tickets at face value. Even sitting in a Division I coach's seats, I watched most of the game on the big screen. It's not a good building for a basketball game. The city's interesting, but the rats are really big. Late last night in the media room in the Dome, periodic screams broke out because what everybody described as a "cat-sized rat" boldly scurried here and there. When I went into the city do to a TV spot, I saw a really long rat. Are they river rats? Are river rats bigger than regular rats? Do they come from the Mississippi River?
April 2, 2012at 1:54 p.m.
Moderator
OK last one.
April 2, 2012at 1:54 p.m.
Can KU play a straight up man-to-man against Kentucky or will they have to fall back on one of the "junk defenses" like they have done recently to compensate for some mismatches.
April 2, 2012at 1:13 p.m.
Tom Keegan
Triangle-and-two is Self's preferred junk defense. No way that would work against Kentucky, which has five NBA draft choices in the starting lineup. Playing a junk defense only works with a couple of non-threats in the lineup. Kansas matches up pretty well against Kentucky and this game could go down to the wire. I'll be doing all my writing from court-side because I'm afraid of enormous rats. No way I'm stepping foot in that media center again.
April 2, 2012at 1:59 p.m.
Moderator
All right, thanks to everyone for your questions. Be sure to check out KUsports.com throughout tonight for photos, videos, stories, blogs and more as KU plays in its the national title game against Kentucky.
April 2, 2012at 2:02 p.m.