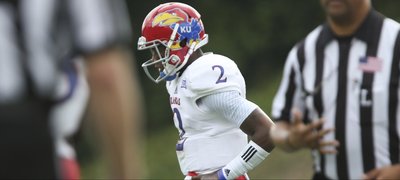 Based on how raw Montell Cozart looked Saturday in a 41-3 loss to Duke, next season's opener against South Dakota State could mean the seventh season in a row with a new starting quarterback. By Tom Keegan
Tom Keegan and Matt Tait look at the good and bad news for the Kansas University football team this week, and provide insight on the Jayhawks' game at Duke.
Blast from the past
"Everybody's against coach (Charlie) Weis. We're trying to change that. Everybody's saying he's a bad coach or he's a bad person. It's up to us to change that."
— Kansas football defensive tackle Keon Stowers, on October 19, 2013, following the Jayhawks' 34-19 home loss to Oklahoma. Though outsiders might have been jumping off the KU/Weis bandwagon, Stowers defended his coach, saying Weis gets the players "riled up" before games.
Read the story
.
September 20
September 27
October 4
October 10
October 11
October 18
October 26