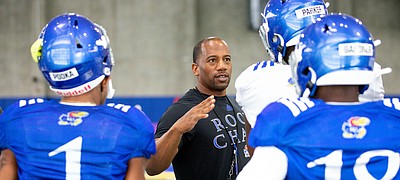 Travis Goff informed Emmett Jones he would be among the prospective hires during his process of finding the next KU football head coach. Now in his third year as KU's receivers coach, Jones said to ultimately secure the permanent job, he only needs to be himself. "I don't need to get out of character. I just need to be Emmett Jones. Continue to be who I was as far as how I got here," said Jones.
Basketball
KU Sports Extra
Football
Blast from the past
"We want to bring more respect to this program. We're tired of being looked at as 'Oh, they're going to be a 6-6, 7-5 team and finish in the bottom of the Big 12.' We don't want that anymore. I think we're going to play like that every week."
— Former KU quarterback Todd Reesing following KU's 52-7 victory over Central Michigan that opened the magical 12-1 2007 season
Read the story
.