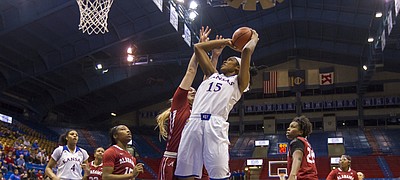 On a night star senior forward Chelsea Gardner delivered 30 points and Kansas University's women's basketball team made 51 percent of its field goals, coach Bonnie Henrickson would like to think her team had done enough to leave Allen Fieldhouse with a victory.
Kansas University football players JaCorey Shepherd and Michael Cummings both recall the Jayhawks' 2012 trip to Oklahoma as one of the early challenges of their respective careers.
Blast from the past
"Being named the starter definitely helps you prepare mentally. I'm just gonna prepare like I know how, take the coaching from the coaches and go into (the game) confident and ready."
— Then-Kansas University red-shirt freshman Michael Cummings after being named KU's starting quarterback for the Texas game in 2012. It marked the second week in a row that Cummings started in place of Dayne Crist.
Read the story
.