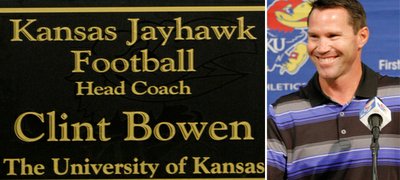 The sign on the podium he proudly stood behind read "Kansas Jayhawk Football Head Coach Clint Bowen." The word "interim" was nowhere to be found. And, really, it didn't need to be there anyway. For the next nine weeks — eight games and a bye — Bowen is the Kansas University football coach. By Matt Tait
Tom Keegan and Matt Tait give their good news/bad news for KU sports this week, as well as their predictions, prime time picks and more for Kansas football's Saturday homecoming game vs. Texas.
Blast from the past
"Everybody's against coach (Charlie) Weis. We're trying to change that. Everybody's saying he's a bad coach or he's a bad person. It's up to us to change that."
— Kansas football defensive tackle Keon Stowers, on October 19, 2013, following the Jayhawks' 34-19 home loss to Oklahoma. Though outsiders might have been jumping off the KU/Weis bandwagon, Stowers defended his coach, saying Weis gets the players "riled up" before games.
Read the story
.