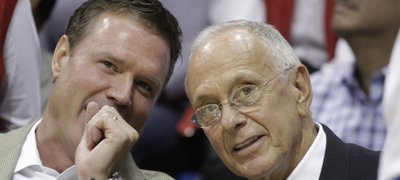 Hall of Fame basketball coach Larry Brown has been in virtually all the great hoops arenas in his 74 years on the planet. Where does Allen Fieldhouse rank? "The best." By Gary Bedore
Kansas University basketball players Conner Frankamp, Brannen Greene, Wayne Selden Jr. and Frank Mason name some of the team's toughest players.
Blast from the past
"Being named the starter definitely helps you prepare mentally. I'm just gonna prepare like I know how, take the coaching from the coaches and go into (the game) confident and ready."
— Then-Kansas University red-shirt freshman Michael Cummings after being named KU's starting quarterback for the Texas game in 2012. It marked the second week in a row that Cummings started in place of Dayne Crist.
Read the story
.