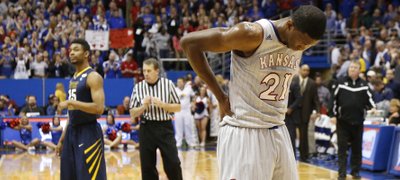 Kansas University basketball coach Bill Self took the time Tuesday night in a telephone conversation to clarify any confusion as to when freshman center Joel Embiid suffered a stress fracture of the lower back and how he and his family were informed. By Tom Keegan
A few days into spring football practices, Kansas University's WR Tony Pierson, OL Damon Martin, RB Brandon Bourbon and QB Jake Heaps talk about the offense being installed by new KU offensive coordinator John Reagan.
Blast from the past
"I'm fully aware of our deficiencies. I'm fully aware of what they are. In about five seconds, I'm going to be out recruiting to try to plug some of these holes and not have as many deficiencies."
— KU football coach Charlie Weis, talking after his team's season-ending 59-10 loss to West Virginia on Dec. 1, 2012. Read the story.