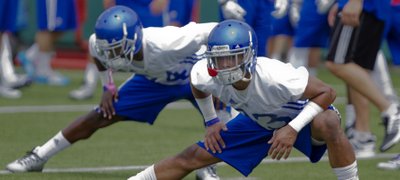 You know those game show contestants who get on a roll, answer all the questions right and make it seem as if the other players aren't even in the room? That's Kansas University senior Cassius Sendish in the defensive-back meeting rooms.By Matt Tait
New to the Kansas University football team, running back De'Andre Mann, offensive lineman Jacob Bragg, running back Corey Avery, receiver Bobby Hartzog and linebacker Kyron Watson discuss how KU veterans have helped make their transition easier.
Blast from the past
"Everybody's against coach (Charlie) Weis. We're trying to change that. Everybody's saying he's a bad coach or he's a bad person. It's up to us to change that."
— Kansas football defensive tackle Keon Stowers, on October 19, 2013, following the Jayhawks' 34-19 home loss to Oklahoma. Though outsiders might have been jumping off the KU/Weis bandwagon, Stowers defended his coach, saying Weis gets the players "riled up" before games.
Read the story
.
September 6
September 13
September 20
September 27
October 4
October 10
October 11