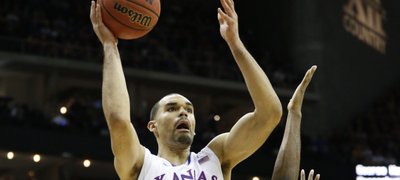 Now with expectations high, but not out of this world, for newcomers Kelly Oubre Jr. and Cliff Alexander, a junior — Perry Ellis — is receiving his share of preseason publicity. By Gary Bedore
Kansas University football players Justin McCay, Tony Pierson, Michael Reynolds and Jimmay Mundine talk about the disappointing loss the Jayhawks went through at Duke, and how they can move on.
Blast from the past
"Everybody's against coach (Charlie) Weis. We're trying to change that. Everybody's saying he's a bad coach or he's a bad person. It's up to us to change that."
— Kansas football defensive tackle Keon Stowers, on October 19, 2013, following the Jayhawks' 34-19 home loss to Oklahoma. Though outsiders might have been jumping off the KU/Weis bandwagon, Stowers defended his coach, saying Weis gets the players "riled up" before games.
Read the story
.