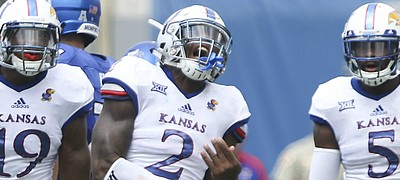 he Big 12 is no place to break in a defensive backfield, but in years that it's necessary, it helps to have a disruptive pass rush and Kansas is certain to have that.
Basketball
KU Sports Extra
Football
Blast from the past
"We want to bring more respect to this program. We're tired of being looked at as 'Oh, they're going to be a 6-6, 7-5 team and finish in the bottom of the Big 12.' We don't want that anymore. I think we're going to play like that every week."
— Former KU quarterback Todd Reesing following KU's 52-7 victory over Central Michigan that opened the magical 12-1 2007 season
Read the story
.