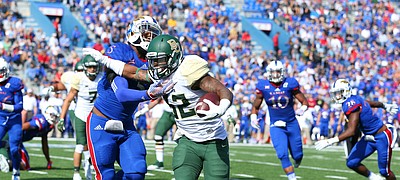 Big 12 expansion talk runs hot so it's time for us all to board the plane to Fantasy Island, time for Herve Villechaize to come back from the dead to greet us, time for us to talk about what to wear for the wedding between the Big Ten and Kansas.
Basketball
KU Sports Extra
Football
Blast from the past
"We want to bring more respect to this program. We're tired of being looked at as 'Oh, they're going to be a 6-6, 7-5 team and finish in the bottom of the Big 12.' We don't want that anymore. I think we're going to play like that every week."
— Former KU quarterback Todd Reesing following KU's 52-7 victory over Central Michigan that opened the magical 12-1 2007 season
Read the story
.
September 3
September 10
September 17
September 24
September 29
October 8
October 15