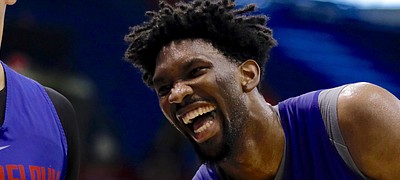 The one thing that Bill Self never could lay claim to during his Kansas tenure was coaching an NBA All-Star. That changed today when Philadelphia 76ers center Joel Embiid was voted to be a starter in this year's NBA All-star game, Feb. 18 in the Staples Center in Los Angeles. The starters were announced on TNT's NBA Tip-Off show.
Basketball
KU Sports Extra
Football
Blast from the past
"We want to bring more respect to this program. We're tired of being looked at as 'Oh, they're going to be a 6-6, 7-5 team and finish in the bottom of the Big 12.' We don't want that anymore. I think we're going to play like that every week."
— Former KU quarterback Todd Reesing following KU's 52-7 victory over Central Michigan that opened the magical 12-1 2007 season
Read the story
.