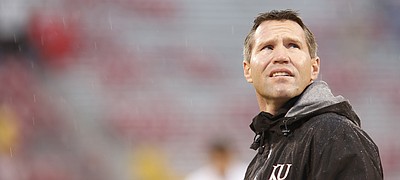 What has to rank as one of the worst weeks in the history of Kansas University athletics included basketball coach Bill Self reaching for a glass of water and cracking that he had hoped it was filled with Vodka. It ended with interim head football coach wishing he could reach for amnesia dust to sprinkle on his players. Column by Tom Keegan
Former NBA and KU basketball star Scot Pollard took a turn as a guest UPS driver for a promotional video, Thursday, Nov. 20, 2014, and made one delivery at fellow KU basketball player Chris Piper's business Grandstand in Lawrence.
Blast from the past
"Being named the starter definitely helps you prepare mentally. I'm just gonna prepare like I know how, take the coaching from the coaches and go into (the game) confident and ready."
— Then-Kansas University red-shirt freshman Michael Cummings after being named KU's starting quarterback for the Texas game in 2012. It marked the second week in a row that Cummings started in place of Dayne Crist.
Read the story
.